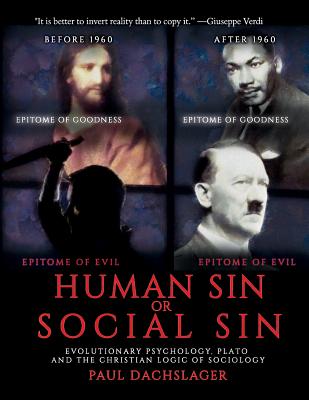 Human Sin or Social Sin: Evolutionary Psychology, Plato and the Christian Logic of Sociology
This product is not returnable.
Publication Date:
May 20th, 2016
Publisher:
Createspace Independent Publishing Platform
The MIT Press Bookstore
2 on hand, as of Dec 8 10:45am
(PHILO)
On Our Shelves Now
Description
The book is the basic psycho-biological model for history, and which has restructured the liberal arts and sciences-including popular culture such as Hollywood. The author has been described as "The Newton and Einstein of psychology and history.
About the Author
A female editor and a female philosophy professor said that Paul is a genius. A Harvard professor said that Paul may be the greatest genius in history. Paul's Music was called "Like Beethoven." A work of critical importance.-Paul Godfried, author of Leo Strauss (Cambridge Univ. Press). "For the select few who appreciate a masterful weaving of history, philosophy and the arts (from grand opera to the movies), this book is a tour de force. Reading it is like a return to college. For those concerned about the state of modern life, it's a must read"-Robert Weissberg, Professor of Political Science, NYU. "Paul has a discerning eye and, unlike many academics, including myself, he has the range to connect fashionable academic theory to pop culture. I enjoyed in particular the dissection of the race question."-Roger Paquette, Professor, Hamilton College. Cofounder of the Alexander Hamilton Institute. Coeditor of The Oxford Handbook of Slavery in the Americas. "Modern sleep and dream science teaches us, as does Human Sin or Social Sin, that all human activity, including art and politics, is a product of the human brain, and each of us has the privilege and responsibility of using it actively and communicating its creations."-Dr. J. Allen Hobson, Professor of Psychiatry, Harvard Medical School, author of Dreaming: An Introduction to the Science of Sleep (Oxford Univ. Press). Paul Dachslager, Ph.D., studied history and philosophy at The Great Courses.com. He is a member of the American Philosophical Association and The Human Behavior and Evolution Society (HBES). The papers he has presented before conferences of HBES scientifically peer review two of the central theses of Human Sin or Social Sin. A publisher commissioned from Paul a textbook on evolutionary psychology. The president of the International Plato Society confirmed that Paul's use of Plato qualified him for membership in the Society. Paul gave the Inaugural Lecture before the Socratic Philosophical Honor Society. His paper presented before the Wagner Society of Northern California was distributed to a class on Wagner at the University of Cincinnati, and the paper was posted by the Bruckner Society of America. Newt Gingrich uses the model in Understanding Trump (p. 107) and in Trump's America (pp. 1-40). Pres. Trump in Michigan speech: "The Dems don't know why they believe what they believe."