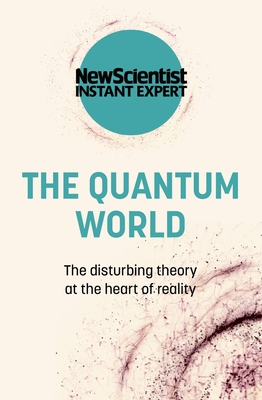 The Quantum World: The Disturbing Theory at the Heart of Reality
Publication Date:
January 11th, 2022
Publisher:
Nicholas Brealey
The MIT Press Bookstore
2 on hand, as of Dec 8 10:45am
(GS)
On Our Shelves Now
Description
Just how real is reality, anyway?
Forget everything you thought you knew about reality.
The world is a seriously bizarre place. Things can exist in two places at once and travel backwards and forwards in time. Waves and particles are one and the same, and objects change their behavior according to whether they are being watched.
This is not some alternative universe but the realm of the very small, where quantum mechanics rules. In this weird world of atoms and their constituents, our common sense understanding of reality breaks down - yet quantum mechanics has never failed an experimental test.
What does it all mean?
For all its weirdness, quantum mechanics has given us many practical technologies including lasers and the transistors that underlie computers and all digital technology. In the future, it promises computers more powerful than any built before, the ability to communicate with absolute privacy, and even quantum teleportation.
The Quantum World explores the past, present and future of quantum science, its applications and mind-bending implications. Discover how ideas from quantum mechanics are percolating out into the vast scale of the cosmos - perhaps, in the future, to reveal a new understanding of the big bang and the nature of space and time.
ABOUT THE SERIES
New Scientist Instant Expert books are definitive and accessible entry points to the most important subjects in science; subjects that challenge, attract debate, invite controversy and engage the most enquiring minds. Designed for curious readers who want to know how things work and why, the Instant Expert series explores the topics that really matter and their impact on individuals, society, and the planet, translating the scientific complexities around us into language that's open to everyone, and putting new ideas and discoveries into perspective and context.
 
About the Author
Since the first magazine was published in 1956, New Scientist has established a world-beating reputation for exploring and uncovering the latest developments and discoveries in science and technology, placing them in context and exploring what they mean for the future. Each week through a variety of different channels, including print, online, social media and more, New Scientist reaches over four million highly engaged readers - over a million readers for the print magazine alone.