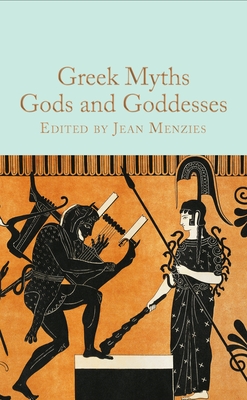 Greek Myths: Gods and Goddesses
Publication Date:
June 20th, 2023
Publisher:
Macmillan Collector's Library
Usually Ships in 1 to 5 Days
Description
The stories of the Gods and Goddesses of Ancient Greece are sprawling, dramatic and strange; lives intertwine and behaviours fluctuate wildly from benevolent to violent, from didactic to fickle, from loving to enraged.
Part of the Macmillan Collector's Library; a series of stunning, clothbound, pocket-sized classics with gold foiled edges and ribbon markers. These beautiful books make perfect gifts or a treat for any book lover.
In Greek Myths: Gods and Goddesses Jean Menzies sets out to capture the magic of these stories and to make sense of the mythological world. Drawing on a wide variety of retellings, and with an entertaining commentary to guide the reader through them, Greek Myths: Gods and Goddesses is the perfect book for learning about the world of the Greek deities and a treat for all fans of Greek Mythology.
Greek Myths have been part of Western culture since they were first set down by the ancients. The fact that there is no one definitive account means that through the centuries the stories have been ripe for reinterpretation according to the politics and fashions of the time. Classicist Jean Menzies has carefully chosen each retelling from 19th and 20th century published tales by writers, scholars and teachers to bring to life the stories of Zeus, Athena, Poseidon, Hermes, Pandora and many more.
About the Author
A classics graduate for Edinburgh University, Jean Menzies is currently researching her PhD in ancient history/holds a PHD in ancient history. She is the author of the prize winning book Greek Myths: Meet the heroes, gods, and monsters of ancient Greece and she publishes fantasy fiction under the name Jean Z. Menzies. A classics enthusiast through and through, she produces the podcast That's Ancient History, which explores antiquity, from its history to its place in today's world. Episodes include interviews with authors Pat Barker, Madeline Miller, Natalie Haynes, and Alexandra Sheppard. She also hosts her long running YouTube channel Bookish Thoughts where she discusses books, writing, studying, and ancient history.