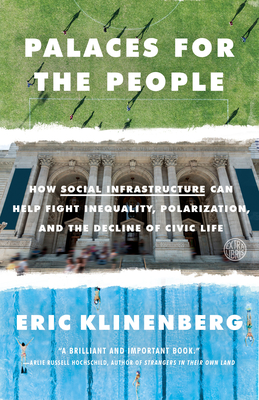 Palaces for the People: How Social Infrastructure Can Help Fight Inequality, Polarization, and the Decline of Civic Life
Publication Date:
September 10th, 2019
The MIT Press Bookstore
1 on hand, as of Nov 30 10:32am
(POLSI)
On Our Shelves Now
Description
"A comprehensive, entertaining, and compelling argument for how rebuilding social infrastructure can help heal divisions in our society and move us forward."—Jon Stewart
NAMED ONE OF THE BEST BOOKS OF THE YEAR BY NPR • "Engaging."—Mayor Pete Buttigieg, The New York Times Book Review (Editors' Choice)
We are living in a time of deep divisions. Americans are sorting themselves along racial, religious, and cultural lines, leading to a level of polarization that the country hasn't seen since the Civil War. Pundits and politicians are calling for us to come together and find common purpose. But how, exactly, can this be done?
In Palaces for the People, Eric Klinenberg suggests a way forward. He believes that the future of democratic societies rests not simply on shared values but on shared spaces: the libraries, childcare centers, churches, and parks where crucial connections are formed. Interweaving his own research with examples from around the globe, Klinenberg shows how "social infrastructure" is helping to solve some of our most pressing societal challenges. Richly reported and ultimately uplifting, Palaces for the People offers a blueprint for bridging our seemingly unbridgeable divides.
LONGLISTED FOR THE ANDREW CARNEGIE MEDAL FOR EXCELLENCE IN NONFICTION
"Just brilliant!"—Roman Mars, 99% Invisible
"The aim of this sweeping work is to popularize the notion of 'social infrastructure'—the 'physical places and organizations that shape the way people interact'. . . . Here, drawing on research in urban planning, behavioral economics, and environmental psychology, as well as on his own fieldwork from around the world, [Eric Klinenberg] posits that a community's resilience correlates strongly with the robustness of its social infrastructure. The numerous case studies add up to a plea for more investment in the spaces and institutions (parks, libraries, childcare centers) that foster mutual support in civic life."—The New Yorker
"Palaces for the People—the title is taken from the Scottish-American industrialist and philanthropist Andrew Carnegie's description of the hundreds of libraries he funded—is essentially a calm, lucid exposition of a centuries-old idea, which is really a furious call to action."—New Statesman
"Clear-eyed . . . fascinating."—Psychology Today
Praise for Palaces for the People: How Social Infrastructure Can Help Fight Inequality, Polarization, and the Decline of Civic Life
Shortlisted for the Goddard Riverside Stephan Russo Book Prize for Social Justice
"Eric Klinenberg offers a new perspective on what people and places have to do with each other.... In case after case, we learn how socially-minded design matters.... Anyone interested in cities will find this book an engaging survey that trains you to view any shared physical system as, among other things, a kind of social network."—The New York Times Book Review
"One of my favorite books of 2018… Klinenberg is echoing what librarians and library patrons have been saying for years: that libraries are equalizers and absolutely universal." —Carla Hayden, Librarian of Congress
"An illuminating examination.... Klinenberg's observations are effortlessly discursive and always cogent, whether covering the ways playgrounds instill youth with civic values or a Chicago architect's plans to transform a police station into a community center. He persuasively illustrates the vital role these spaces play in repairing civic life."—Publishers Weekly (starred)
"If America appears fractured at the national level, the author suggests, it can be mended at the local one. This is an engrossing, timely, hopeful read, nothing less than a new lens through which to view the world and its current conflicts."—Booklist (starred)
"Eric Klinenberg combines a Jane Jacobs-eye on city life with knowledge of the latest research and practical ideas to address the crucial issues of the day—class division, crime, and climate change. This is a brilliant and important book."—Arlie Hochschild, author of Strangers in Their Own Land
"Reading Palaces for the People is an amazing experience. As an architect, I know very well the importance of building civic places: concert halls, libraries, museums, universities, public parks, all places open and accessible, where people can get together and share experiences. To create good places for people is essential, and this is what I share with Klinenberg: We both believe that beauty, this kind of beauty, can save the world."—Renzo Piano
"This fantastic book reminds us that democracy is fortified and enlivened by people coexisting together in public, and that good design and support of a wide variety of public spaces can produce those mysterious things we call community, membership, a sense of belonging, a place, maybe a polity. In an age where the push for disembodiment and never leaving the house and fearing and avoiding strangers and doing everything as fast as possible is so powerful, this book makes the case for why we want to head in the opposite direction. It's both idealistic and, in its myriad examples, pragmatic, and delightfully readable."—Rebecca Solnit, author of Men Explain Things to Me and A Field Guide to Getting Lost
"At a time when polarization is weakening our democracy, Eric Klinenberg takes us on a tour of the physical spaces that bind us together and form the basis of civic life. We care about each other because we bump up against one another in a community garden or on the playground or at the library. These are not virtual experiences; they're real ones, and they're essential to our future. This wonderful book shows us how democracies thrive."—Steven Levitsky and Daniel Ziblatt, authors of How Democracies Die
"A great example of research made accessible to non-experts… Klinenberg draws on loads of published scholarship as well as his own, weaving it together into a powerful argument…. What Klinenberg advocates is not luxury along the lines of grand train stations of the past but decency and thoughtfulness in designing the spaces we live in."—Inside Higher Ed
"Eric Klinenberg believes that social life can be designed well, just as good buildings are. His book is full of hope, which is all the more striking because Klinenberg is a realist. He is a major social thinker, and this is a beautifully written, major book."—Richard Sennett, Professor of Sociology, London School of Economics
"In very unequal societies, where the social fabric has been torn apart and the social distances between people create lack of trust, community participation and high levels of stress and distress, it is vitally important to build social infrastucture to bring people together. Healing these rifts is the key to empowering people to tackle the inequality that divides them. Eric Klinenberg shows us how this can be done - this is an important book for our difficult age."
—Kate Pickett, co-author of The Spirit Level and The Inner Level
"Fine reading for community activists seeking to expand the social infrastructure of their own home places." —Kirkus Reviews
"The author's paean to public libraries will strongly appeal to those who support them as well as interested sociologists and urbanists."—Library Journal