Discounted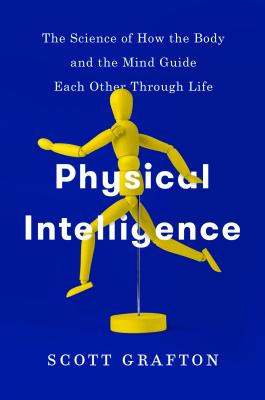 Physical Intelligence: The Science of How the Body and the Mind Guide Each Other Through Life
Previous price:

$26.95
Current price:

$6.90
Publication Date:
January 7th, 2020
Special Order - Subject to Availability
Description
Elegantly written and deeply grounded in personal experience—works by Oliver Sacks come to mind—Physical Intelligence gives us a clear, illuminating examination of the intricate, mutually responsive relationship between the mind and the body as they engage (or don't engage) in all manner of physical action.
Ever wonder why you don't walk into walls or off cliffs? How you decide if you can drive through a snowstorm? How high you are willing to climb up a ladder to change a lightbulb? Through the prisms of behavioral neurology and cognitive neuroscience, Scott Grafton brilliantly accounts for the design and workings of the action-oriented brain in synchronicity with the body in the natural world, and he shows how physical intelligence is inherent in all of us—and always in problem-solving mode. Drawing on insights gleaned from discoveries by engineers who have learned to emulate the sophisticated solutions Mother Nature has created for managing complex behavior, Grafton also demonstrates the relevance of physical intelligence with examples that each of us might face—whether the situation is mundane, exceptional, extreme, or compromised.
About the Author
SCOTT GRAFTON holds the Bedrosian Coyne Presidential Chair in Neuroscience at the University of California, Santa Barbara. He is director of the UCSB Brain Imaging Center and codirector of the Institute for Collaborative Biotechnologies. He lives in Santa Barbara.
Praise for Physical Intelligence: The Science of How the Body and the Mind Guide Each Other Through Life
"An emphatic success. Mr. Grafton gives an authoritative and accessible account of what is now known about nonverbal bodily intelligence."
—The Wall Street Journal
"Grafton is a world-renowned neuroscientist and clinical neurologist who has made important contributions that impact every area of our field."
—Daniel J. Levitin, author of New York Times best seller The Organized Mind
 
"There are great writers who cover science, and every once in a while there are great scientists who can not only write but can also let us in on the turmoil and secrets of modern science. Grafton's own expertise in medicine, neuroscience, and cognitive science allows him insights few others can contemplate. Physical Intelligence will become an instant classic." 
—Michael S. Gazzaniga, author of The Consciousness Instinct