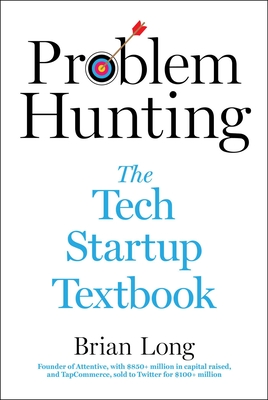 Problem Hunting: The Tech Startup Textbook
Publication Date:
October 3rd, 2023
Publisher:
Peakpoint Press
The MIT Press Bookstore
2 on hand, as of Nov 30 10:32am
(BUSIN)
On Our Shelves Now
Description
A unicorn founder gives step-by-step advice on everything from finding product-market fit to managing investors
In Problem Hunting: The Tech Startup Textbook, Brian Long offers a tactical approach to building a tech company based on his experience growing a multi-billion dollar software business and selling another business to Twitter for nine figures. This is a daily playbook that any budding entrepreneur will return to over and over again as a reference when building their business.
Problem Hunting is broken down into chapters giving simple, step-by-step advice for each stage and functional department needed to run a startup tech company:
Finding and testing product market fit
Creating and refining your product
Selling and marketing your new solution
Hiring your team and building your culture
Mobilizing financial, legal, and compliance functions
Pitching investors and securing funding
Built upon learning and anecdotes from a unicorn founder, Problem Hunting has everything prospective entrepreneurs and leaders need to start their business.
 
Praise for Problem Hunting: The Tech Startup Textbook
"Problem Hunting is a pragmatic guide to business formation, from opportunity identification to fundraising, team building, and beyond. Brian turns personal experience into practical advice for entrepreneurs at all stages of the value creation process."
—Evan Spiegel, cofounder and CEO, Snapchat
"Brian's dynamic range is exceptional: from crafting a compelling high level product strategy to hammering out the details of a sales plan, Brian has mastered every aspect of the business building journey. Crystallizing his wisdom in the form of practical, tactical advice is truly a gift to the startup ecosystem. I would encourage any founder to read this and refer back to it again and again."
—Pat Grady, partner, Sequoia Capital
"With Problem Hunting, Brian distills the complexities of tech startups into an accessible, comprehensive guide. Your path to starting and scaling your own business starts here."
—Harley Finkelstein, president, Shopify 
"Brian is an incredible entrepreneur with a string of successes. Problem Hunting is a wonderful resource that I wish I had when starting a company. Highly recommend!"
—Zach Perret, CEO and founder, Plaid
"I've had a front row seat to Brian's last two companies, watching them grow at blistering speed, creating billions in value. Brian's practical startup advice is an invaluable resource for any entrepreneur. From finding product market fit, to running the day-to-day, Brian gives you everything you need to scale your tech startup." 
—Scott Friend, partner, Bain Capital Ventures
"Brian Long is one of the best CEOs on the planet. I should know; I have coached many of the best. In this book, he puts on full public display the practices that have made Attentive such a success. If you manage a company or a team or yourself, and want to know how to do it well, read this book! It has the answers you've been looking for."
—Matt Mochary, Leading CEO Coach
"Building a tech startup company is really hard. In Problem Hunting, Brian gives a simple playbook for finding an idea, building a great team, and growing a fantastic business."
—Henrique Dubugras, founder and co-CEO, Brex
"Problem Hunting is the ultimate playbook for the tech entrepreneur. In a few simple steps, Brian breaks down his process for finding a big business, and then gives you all the ammo you need to make it a reality."
—Jon Oringer, founder and executive chairman, Shutterstock 
"I recommend Problem Hunting to any entrepreneur, whether experienced or just starting out. Brian breaks down the process and shares hard-won lessons for finding the kind of massive problems that can lead to a big business. Then he gives you all of the tactical guidance you need to make it a reality."
—Jim Payne, CEO and cofounder, MoPub
"Problem Hunting is a must read for any founder. From identifying an idea to building an early sales team, and running a board meeting to raising capital, Brian has constructed the new manual for the startup journey. All substance and no fluff, directly from a practitioner who has seen it twice."
—Lucas Swisher, General Partner, Coatue
"Brian has distilled the unwieldy and overwhelming process of company-building into an understandable and logical set of steps. This isn't business theory; it's a practitioner's guide penned by one of the best repeat tech founders in the country, while at the top of his game."
—Tom Loverro, General Partner, IVP