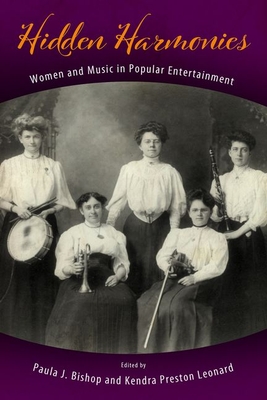 Hidden Harmonies: Women and Music in Popular Entertainment (American Made Music)
Publication Date:
May 4th, 2023
Publisher:
University Press of Mississippi
Usually Ships in 1 to 5 Days
Description
Contributions by Christina Baade, Candace Bailey, Paula J. Bishop, Maribeth Clark, Brittany Greening, Tammy Kernodle, Kendra Preston Leonard, April L. Prince, Travis D. Stimeling, and Kristen M. Turner
For every star, there are hundreds of less-recognized women who contribute to musical communities, influencing their aesthetics and expanding opportunities available to women. Hidden Harmonies: Women and Music in Popular Entertainment focuses not on those whose names are best known nor most celebrated but on the women who had power in collective or subversive ways hidden from standard histories.
Contributors to Hidden Harmonies reexamine primary sources using feminist and queer methodologies as well as critical race theory in order to overcome previous, biased readings. The scholarship that results from such reexaminations explores topics from songwriters to the music of the civil rights movement and from whistling schools to musical influencers. These wide-ranging essays create a diverse and novel view of women's contribution to music and its production. With intelligence and care, Hidden Harmonies uncovers the fascinating figures behind decades of popular music.