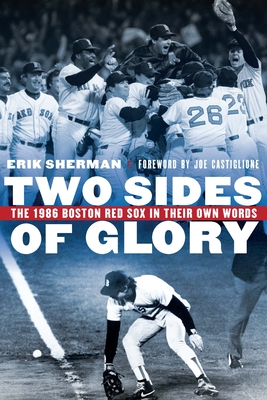 Two Sides of Glory: The 1986 Boston Red Sox in Their Own Words
Publication Date:
April 1st, 2021
Publisher:
University of Nebraska Press
The MIT Press Bookstore
1 on hand, as of Nov 30 10:32am
(LOCAL)
On Our Shelves Now
Description
Following an epic American League Championship Series win over the California Angels and just one out from winning their first World Series in sixty-eight years, the 1986 Boston Red Sox lost Game Six to the New York Mets in unforgettable and devastating fashion. Then they lost Game Seven and the Series itself. Two Sides of Glory portrays the losing side of the story about one of baseball's most riveting World Series match-ups. With the benefit of years of reflection from the men who made up the '86 Sox, this will be the definitive book on this iconic yet most Shakespearian of Boston teams for years to come.
After telling the Mets' side of the story, Erik Sherman turns here to the Red Sox's version, with recollections from players that are both insightful and surprisingly emotional. Bill Buckner, whose name became synonymous with a muffed grounder, speaks openly about the cruel aftermath. Pitcher Bruce Hurst broke down three times while being interviewed. Dwight Evans confesses in his interview that he had never before talked at length about the '86 team. And Roger Clemens talks candidly not only about the '86 squad but also accusations of alleged steroid abuse later in his career and the toll it has taken on his family.
In each player's retelling, there is the excitement of history never told and old mysteries answered. The story of the '86 Red Sox is well known, but now, after thirty years, the players have opened up to Sherman like never before. It's an in-depth, first-person account with the intriguing key players who made up this once-in-a-generation Boston team, and also a look at how the extremes of tantalizing victory and heart-wrenching failure shaped and influenced their lives—both on the field and off.
Praise for Two Sides of Glory: The 1986 Boston Red Sox in Their Own Words
"For nearly two decades, the failure of the '86 team to record that final out was a wound that wouldn't heal. Then, in 2004, the Sox finally won a title. Stanley, Buckner and company could now be remembered as heroes, not heels. In Two Sides of Glory: The 1986 Boston Red Sox in Their Own Words . . . the baseball writer Erik Sherman burnishes their legend."—John Swansburg, New York Times
"Erik Sherman's book is one any Boston Red Sox fan will appreciate, reminding them of a team rich in both talent and personality. And casual baseball fans will be reminded that the glory that's celebrated when the champagne bottles pop and the trophy is handed out in the clubhouse after the final out of the World Series comes with another side, one that this book brings home in a thoughtful, poignant style."—Willie Steele, NINE: A Journal of Baseball History and Culture
"Whether or not a reader is a Red Sox fan, a Mets fan, or a neutral observer for that epic showdown, this book is one that every reader who has any interest in the sport should read."—Lance Smith , Guy Who Reviews Sports Books
"What shines through in Two Sides of Glory is the 1986 Red Sox players' love for each other and the game they played. . . . Sherman presents the flip side of the 1986 World Series in an engaging, passionate and fascinating narrative. He shows that even though the Red Sox lost in agonizing fashion, they still kept their pride. And in the final analysis, that is what counted most."—Bob D'Angelo, Sports Bookie
"Readers do not have to be Red Sox fans to appreciate the unique paths individuals must travel to find inner peace when the highest aspirations of youth are not attained. The admirable candor and flashes of humor exhibited make it difficult to dislike any of these men. As they attest, their families, the friendship of teammates, and spiritual faith are infinitely more valuable than any championship trophy."—J. Kemper Campbell, Lincoln Journal Star
"Can a key baseball writer set aside the New York Metropolitans banner and compose a comprehensive and moving book on the Hub's '86 AL franchise? With great ease and candor, Sherman proves himself to be such a scribe."—John Vorperian, SABR Newsletter
"I thought I knew everything there was to know about the 1986 Red Sox. I lived with them all season, on the buses and in the hotels. I wrote a book on them. But all these years later Erik Sherman has taken a deeper dive, and the result is enlightening. Two Sides of Glory is the final word on Boston's most star-crossed team."—Dan Shaughnessy, author of One Strike Away and The Curse of the Bambino
"In many ways 1986 defined Red Sox history from 1918 to 2004. After Game Six, I took the elevator down, and when the door opened, there was Mike Torrez, who shouted, 'I'm off the hook!' It was the year Roger Clemens exploded, Bruce Hurst was a ballast, Bill Buckner limped bravely, and David Henderson took the region. I have always believed they would have won had Tom Seaver not gotten hurt. But he did, and Erik Sherman has captured the voices from an unforgettable season."—Peter Gammons, J. G. Taylor Spink Award recipient and author of Beyond the Sixth Game
"In baseball as in life, there's a compelling poignancy to the near miss. Does it haunt you? Does the hurt fade away? How does it shape the rest of your life? In Two Sides of Glory Erik Sherman lets the 1986 Boston Red Sox give us those answers, visiting the stars of that unforgettable season—Wade Boggs, Roger Clemens, Dwight Evans, Jim Rice, and more—for a fascinating series of intimate portraits of the men who came within one strike of World Series glory."—Tyler Kepner, baseball writer for the New York Times and author of K: A History of Baseball in Ten Pitches
"Erik Sherman's interviews with the players are invariably intimate and always interesting, making Two Sides of Glory an absorbing read even for a baseball fan like me who has no sympathy for the Red Sox as an institution."—David Maraniss, Pulitzer Prize–winning journalist and author of Clemente