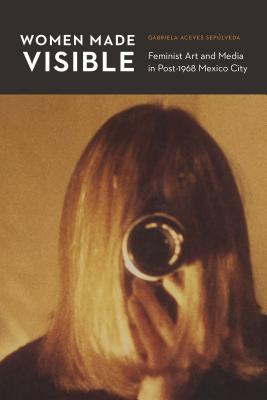 Women Made Visible: Feminist Art and Media in Post-1968 Mexico City (The Mexican Experience)
Publication Date:
April 1st, 2019
Publisher:
University of Nebraska Press
The MIT Press Bookstore
1 on hand, as of Dec 8 10:45am
(ART)
On Our Shelves Now
Description
2020 Canadian Association for Latin American and Caribbean Studies (CALACS) Book Prize
In post-1968 Mexico a group of artists and feminist activists began to question how feminine bodies were visually constructed and politicized across media. Participation of women was increasing in the public sphere, and the exclusive emphasis on written culture was giving way to audio-visual communications. Motivated by a desire for self-representation both visually and in politics, female artists and activists transformed existing regimes of media and visuality.
Women Made Visible by Gabriela Aceves Sepúlveda uses a transnational and interdisciplinary lens to analyze the fundamental and overlooked role played by artists and feminist activists in changing the ways female bodies were viewed and appropriated. Through their concern for self-representation (both visually and in formal politics), these women played a crucial role in transforming existing regimes of media and visuality—increasingly important intellectual spheres of action. Foregrounding the work of female artists and their performative and visual, rather than written, interventions in urban space in Mexico City, Aceves Sepúlveda demonstrates that these women feminized Mexico's mediascapes and shaped the debates over the female body, gender difference, and sexual violence during the last decades of the twentieth century.
Weaving together the practices of activists, filmmakers, visual artists, videographers, and photographers, Women Made Visible questions the disciplinary boundaries that have historically undermined the practices of female artists and activists and locates the development of Mexican second-wave feminism as a meaningful actor in the contested political spaces of the era, both in Mexico City and internationally.
Praise for Women Made Visible: Feminist Art and Media in Post-1968 Mexico City (The Mexican Experience)
"Women Made Visible is meticulously and creatively researched thanks to the access that the author gained to personal and institutional archives, and to the detailed interviews she conducted with art practitioners and feminist activists. . . . This book will be of interest to scholars of visual and art history and feminist studies, as well as to urban historians, particularly those concerned with the ways in which metropolises like Mexico City become places where countercultural movements flourish."—Tania Islas Weinstein, Latin Americanist
"Timely and necessary, Women Made Visible advances the field of Latin American, Chicanx, and Latinx art history."—Teresa Eckmann, Woman's Art Journal
"Women Made Visible may be of interest to students and scholars who study art, feminism, Mexico, politics, and history."—Margarita H.Tapia, Communication Booknotes Quarterly
"Gabriela Aceves Sepúlveda brilliantly contrasts two primary sources that are not normally read together: private artist archives (and interviews with the artist-archivists) and state security archives. The author's deeply researched—and theoretically and methodologically sophisticated—study will be an extraordinary resource for this subfield of video art and experimental film in Mexico."—George Flaherty, author of Hotel Mexico: Dwelling on the '68 Movement
"An impressive foundation. Women Made Visible adds important women artists to the canon of Mexican art history. Written in a brisk, accessible, but still sophisticated prose style, this book will serve novice and specialist alike."—Mary K. Coffey, author of How a Revolutionary Art Became Official Culture: Murals, Museums, and the Mexican State