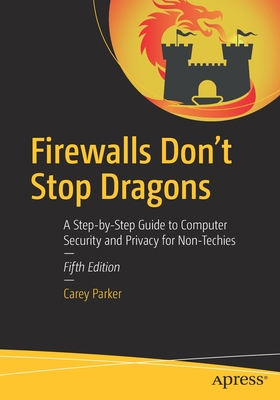 Firewalls Don't Stop Dragons: A Step-By-Step Guide to Computer Security and Privacy for Non-Techies
Publication Date:
February 4th, 2023
The MIT Press Bookstore
1 on hand, as of Dec 5 4:07pm
(CS)
On Our Shelves Now
Description
Rely on this practical, end-to-end guide on cyber safety and privacy written expressly for a non-technical audience. You'll have just what you need to protect yourself--step by step, without judgment, and with as little jargon as possible. Just how secure is your computer right now? You probably don't know. Computers and the Internet have revolutionized the modern world, but if you are like most people, you have no clue how these things work and don't know the real threats.
Protecting your computer is like defending a medieval castle. While moats, walls, drawbridges, and castle guards can be effective, you would go broke trying to build something dragon-proof. This book is not about protecting yourself from a targeted attack by the NSA; it is about arming yourself against common hackers and mass surveillance. There are dozens of no-brainer things we all should be doing to protect our computers and safeguard our data--just like wearing a seat belt, installing smoke alarms, and putting on sunscreen.
Author Carey Parker has structured this book to give you maximum benefit with minimum effort. If you just want to know what to do, every chapter has a complete checklist with step-by-step instructions and pictures. This revised and expanded fifth edition contains more than 170 tips to make you and your family safer. It includes:
Updates for Windows 11 and Mac OS 12 (Monterey)
Updates for iOS 15.5 and Android 12
Updated recommendations on the best apps, products, and services
A preview of Mac OS 11 Big Sur and iOS 14
What You Will Learn
Protect your data and reclaim your privacy
Minimize your data footprint
Use an alias to enhance both security and privacy
Gain privacy for your car
Create killer passwords that you do not have to remember
Browse the web safely and with confidence
Shop and bank online with maximum security
Defend against identity theft
Protect yourself from viruses and scams
Maximize your smartphone security and privacy
Safeguard your children online
Block online tracking and dangerous ads
Send files and messages securely and privately
Set up secure home networking
Keep your smart devices from spying on you
Create automated backups of all your devices
Know how the Internet actually works
And more
Who This Book Is For
Those who use computers and mobile devices, but do not know (or care) how they work. The book is for people who want to know what they need to do to protect themselves--step by step, without judgment, and with as little jargon as possible.
About the Author
Carey Parker, CIPM was born and raised in Indiana, an only child who loved to tear apart his electronic toys and reassemble them in interesting ways. He began programming computers in middle school when personal computers were just starting to become popular. For years, these twin interests percolated until he attended Purdue University and learned that you could get paid to do this stuff--it was called electrical engineering! After obtaining both bachelor and master degrees in electrical engineering, Carey launched his career in telecommunications software development at Bell Northern Research (aka the "Big Nerd Ranch"). Over the next 20 years, he wrote software for multiple companies, large and small, and lived in various cities across the southern United States. In recent years, particularly after the Edward Snowden revelations in 2013, Carey became deeply concerned about computer security and privacy. In 2014, he began combining his passion for computers, cybersecurity, and fantasy novels with his long-time desire to write a book, and the result is Firewalls Don't Stop Dragons. This eventually launched a blog, newsletter, and weekly podcast of the same name.