Discounted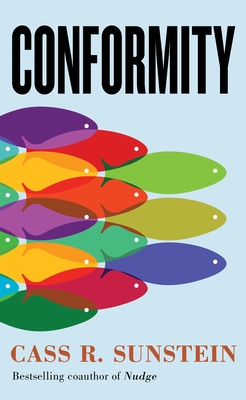 Conformity: The Power of Social Influences
Previous price:

$13.95
Current price:

$10.95
Publication Date:
May 21st, 2021
Publisher:
New York University Press
The MIT Press Bookstore
1 on hand, as of Dec 8 10:45am
(PSYCH)
On Our Shelves Now
Description
Bestselling author Cass R. Sunstein reveals the appeal and the danger of conformity
We live in an era of tribalism, polarization, and intense social division-separating people along lines of religion, political conviction, race, ethnicity, and sometimes gender. How did this happen? In Conformity, Cass R. Sunstein argues that the key to making sense of living in this fractured world lies in understanding the idea of conformity-what it is and how it works-as well as the countervailing force of dissent.
An understanding of conformity sheds new light on many issues confronting us today: the role of social media, the rise of fake news, the growth of authoritarianism, the success of Donald Trump, the functions of free speech, debates over immigration and the Supreme Court, and much more.
Lacking information of our own and seeking the good opinion of others, we often follow the crowd, but Sunstein shows that when individuals suppress their own instincts about what is true and what is right, it can lead to significant social harm. While dissenters tend to be seen as selfish individualists, dissent is actually an important means of correcting the natural human tendency toward conformity and has enormous social benefits in reducing extremism, encouraging critical thinking, and protecting freedom itself.
Sunstein concludes that while much of the time it is in the individual's interest to follow the crowd, it is in the social interest for individuals to say and do what they think is best. A well-functioning democracy depends on it.
About the Author
Cass R. Sunstein (Author) Cass R. Sunstein is the Robert Walmsley University Professor at Harvard. He is the founder and director of the Program on Behavioral Economics and Public Policy at Harvard Law School. He is the author of hundreds of articles and dozens of books, including Nudge: Improving Decisions about Health, Wealth, and Happiness (with Richard H. Thaler), Conformity: The Power of Social Influences, How Change Happens, and Too Much Information: Understanding What You Don't Want to Know. Robert H. Frank (Foreword by) Robert H. Frank is the H. J. Louis Professor of Management and Professor of Economics, Emeritus, at Cornell University's Johnson Graduate School of Management. He is the author, most recently, of Under the Influence: Putting Peer Pressure to Work.