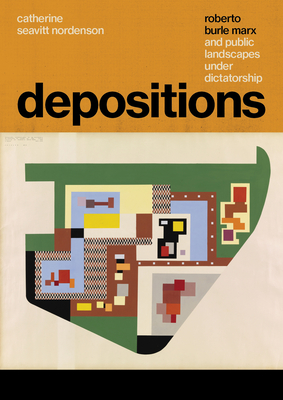 Depositions: Roberto Burle Marx and Public Landscapes under Dictatorship
Publication Date:
April 25th, 2018
Publisher:
University of Texas Press
The MIT Press Bookstore
2 on hand, as of Nov 30 10:32am
(URBAN)
On Our Shelves Now
Description
Recipient of 2019 John Brinckerhoff Jackson Book Prize, Foundation for Landscape Studies
2021 On the Brinck Book Award Winner
"Burle Marx created a new and modern grammar for international landscape design."
—Lauro Cavalcanti, quoted in the New York Times
"The real creator of the modern garden."
—American Institute of Architects
Presenting the first English translation of Burle Marx's "depositions," this volume highlights the environmental advocacy of a preeminent Brazilian landscape architect who advised and challenged the country's military dictatorship.
Roberto Burle Marx (1909–1994) is internationally known as one of the preeminent modernist landscape architects. He designed renowned public landscapes in Brazil, beginning with small plazas in Recife in the 1930s and culminating with large public parks in the early 1960s, most significantly the Parque do Flamengo in Rio de Janeiro. Depositions explores a pivotal moment in Burle Marx's career—the years in which he served as a member of the Federal Cultural Council created by the military dictatorship in the mid-1960s. Despite the inherent conflict and risk in working with the military regime, Burle Marx boldly used his position to advocate for the protection of the unique Brazilian landscape, becoming a prophetic voice of caution against the regime's policies of rapid development and resource exploitation.
Depositions presents the first English translation of eighteen environmental position pieces that Burle Marx wrote for the journal Cultura , a publication of the Brazilian Ministry of Education and Culture, from 1967 through 1973. Catherine Seavitt Nordenson introduces and contextualizes the depositions by analyzing their historical and political contexts, as well as by presenting pertinent examples of Burle Marx's earlier public projects, which enables a comprehensive reading of the texts. Addressing deforestation, the establishment of national parks, the place of commemorative sculpture, and the unique history of the Brazilian cultural landscape, Depositions offers new insight into Burle Marx's outstanding landscape oeuvre and elucidates his transition from prolific designer to prescient counselor.
Praise for Depositions: Roberto Burle Marx and Public Landscapes under Dictatorship
Depositions offers an understanding of Burle Marx beyond his gardens and parks; it is a solid introduction to both his work and Brazil's quest to establish its cultural identity.
— Architectural Record
Depositions is a well-researched, well-written, and laudatory study that substantially adds to, and significantly amends, our view of Burle Marx as a landscape architect and cultural figure.
— Landscape Journal
[Depositions] opens new perspectives on Burle Marx's work, revealing facets of his celebrated projects and legacy that too often go unspoken…This seminal book will enable greater understanding not only of Burle Max's position as a designer operating under dictatorial conditions but also of the convoluted circumstances underlying Brazil's modern architectural history.
— Journal of the Society of Architectural Historians
[Depositions] sheds new light on Burle Marx's intellectual position and serves as a valuable map of the local sociopolitical context, in its complexities and contradictions since colonial times.
— ABE Journal