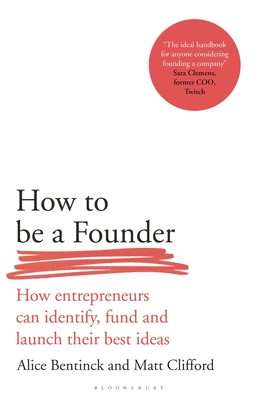 How to Be a Founder: How Entrepreneurs can Identify, Fund and Launch their Best Ideas
Publication Date:
October 25th, 2022
Publisher:
Bloomsbury Business
Usually Ships in 1 to 5 Days
Description
An essential guide to equip the next generation of founders with the mindset and tools they need to take the leap to become globally successful entrepreneurs.
Featuring a foreword by Reid Hoffman, founder of LinkedIn, this fascinating handbook inspires potential founders and provides essential guidance and advice for people who want to create their own start-up and build a successful company. This book answers the question "how do I get started?" It takes the reader from making the decision to plunge into entrepreneurship, through the process of choosing and developing an idea and team, all the way to raising capital and working with VCs and angel investors.
Alice Bentinck and Matt Clifford are the co-founders of Entrepreneur First (EF). Over the last decade, they have worked with thousands of ambitious individuals across the world, supporting them to become founders. Those individuals have now built companies worth billions of dollars that are taking on some of the world's biggest challenges, including finding hard-to-spot cancers, tackling climate change and building new financial platforms. In How to Be a Founder, the authors share advice, insights and lessons from their decade of experience working with individuals to become successful founders. The book covers what you need to do today to start your journey as a founder and the steps to take to maximise your chances of building a high-growth, scalable company. You'll also hear advice from some of the world's best investors and entrepreneurs who have built some of most iconic technology companies of our time.
Praise for How to Be a Founder: How Entrepreneurs can Identify, Fund and Launch their Best Ideas
""Entrepreneurship is a key engine of the modern economy. This book is the essential guide for the founders of the future who want to get started and build the enduring businesses of tomorrow."" —Tony Blair, Executive Chairman of the Institute for Global Change, and former Prime Minister of Great Britain and Northern Ireland
"Alice and Matt have created the ideal handbook for anyone considering founding a company. It provides both strategic advice on building toward a mission and purpose, plus pragmatic advice on the first 100 days. Essential reading for anyone experimenting with ideas and co-founding teams." —Sara Clemens, Former COO, Twitch
" 'In this book, Alice and Matt explain how they've been helping some of the world's most ambitious and talented people start companies for the last 10 years. It's a great overview of the founding journey.'" —Tom Blomfield, Founder, Monzo
"Alice and Matt have helped hundreds of founders build companies and this book distils everything they've learned. It's a great starting point for any aspiring entrepreneur!" —Taavet Hinrikus, Founder, Wise