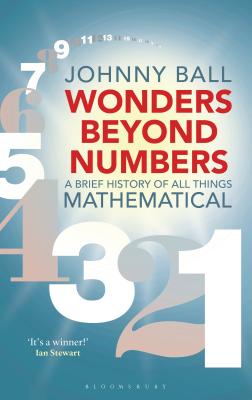 Wonders Beyond Numbers: A Brief History of All Things Mathematical
Publication Date:
May 7th, 2019
Publisher:
Bloomsbury Sigma
Special Order - Subject to Availability
Description
An all-encompassing history of mathematics from beloved TV presenter Johnny Ball.
By introducing us to the major characters and leading us through many historical twists and turns, Johnny slowly unravels the tale of how humanity built up a knowledge and understanding of shapes, numbers and patterns from ancient times, a story that leads directly to the technological wonderland we live in today. As Galileo said, 'Everything in the universe is written in the language of mathematics', and Wonders Beyond Numbers is your guide to this language.
Mathematics is only one part of this rich and varied tale; we meet many fascinating personalities along the way, such as a mathematician who everyone has heard of but who may not have existed; a Greek philosopher who made so many mistakes that many wanted his books destroyed; a mathematical artist who built the largest masonry dome on earth, which builders had previously declared impossible; a world-renowned painter who discovered mathematics and decided he could no longer stand the sight of a brush; and a philosopher who lost his head, but only after he had died.
Enriched with tales of colorful personalities and remarkable discoveries, there is also plenty of mathematics for keen readers to get stuck into. Written in Johnny Ball's characteristically light-hearted and engaging style, this book is packed with historical insight and mathematical marvels; join Johnny and uncover the wonders found beyond the numbers.
About the Author
Johnny Ball is a life-long math obsessive and started out as a stand-up comic before appearing on BBC TV's Play School from 1967. His real break, though, came in 1977, with the first series of Think of a Number. A smash hit, this spawned various other shows (such as Johnny Ball Reveals All), as Johnny quickly became one of the most famous faces on British television.
Johnny remains a regular fixture on TV and radio, and is comfortably Britain's most famous mathematician.
Praise for Wonders Beyond Numbers: A Brief History of All Things Mathematical
"(Ball) charms in this lively, accessible history of mathematics . . . excellent as an introduction to the field." —Publishers Weekly