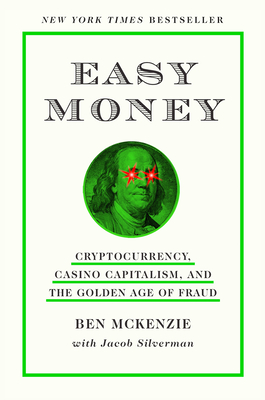 Easy Money: Cryptocurrency, Casino Capitalism, and the Golden Age of Fraud
Publication Date:
July 18th, 2023
The MIT Press Bookstore
1 on hand, as of Nov 30 10:32am
(BUSIN)
On Our Shelves Now
Description
INSTANT NEW YORK TIMES BESTSELLER
LONGLISTED FOR THE FINANCIAL TIMES 2023 BUSINESS BOOK OF THE YEAR
"A smart, savvy road map through the mayhem of the cryptocurrency madness."
—RON CHERNOW, Pulitzer Prize-winning author of Alexander Hamilton
From "one of the crypto industry's unlikely but most prominent critics" (Washington Post), an entertaining and well-researched account of the rise and fall of cryptocurrency.
 
At the height of the pandemic, TV star Ben McKenzie was the perfect mark for cryptocurrency: a dad stuck at home with some cash in his pocket, worried about his family, armed with only the vague notion that people were making heaps of money on something he—despite a degree in economics—didn't entirely understand. Lured in by grandiose, utopian promises, and sure, a little bit of FOMO, McKenzie dove deep into blockchain, Bitcoin, and the various other coins and exchanges on which they are traded. But after scratching the surface, he had to ask, "Am I crazy, or is this all a total scam?"
 
In Easy Money, McKenzie enlists the help of journalist Jacob Silverman for an investigative adventure into crypto and its remarkable crash. Weaving together stories of average traders and victims, colorful crypto "visionaries," Hollywood's biggest true believers, anti-crypto whistleblowers, and government operatives, Easy Money is an on-the-ground look at a perfect storm of irresponsibility and criminal fraud. Based on original reporting across the country and abroad, including interviews with Sam Bankman-Fried, Tether cofounder Brock Pierce, Celsius's Alex Mashinsky, and more, this is the book on cryptocurrency you've been waiting for.
Praise for Easy Money: Cryptocurrency, Casino Capitalism, and the Golden Age of Fraud
"If you're looking for a smart, savvy road map through the mayhem of the cryptocurrency madness, Easy Money is the guidebook for you. Ben McKenzie has given us a wry and knowing saga of his personal quest to expose the crypto charlatans, and his sleuthing uncovers a world of frauds, true believers, and opportunists that you won't soon forget."
— Ron Chernow, Pulitzer Prize–winning and New York Times bestselling author of Alexander Hamilton and The House of Morgan
"Ben McKenzie takes us on an amazing journey, guiding us through the astounding story of how a bizarre cast of swindlers and scammers persuaded millions of people to take leave of their senses and part with trillions of dollars, only to put them into the surreal and illusory world of so called 'crypto assets' and watch them vanish into thin air. When it is all over, the last couple of years will prove to have been one of the strangest episodes in the history of money."
— Liaquat Ahamed, Pulitzer Prize–winning author of Lords of Finance
"Ben McKenzie's Easy Money is a perfectly timed page-turner that gets to the heart of the fundamental scam that was (and is) the mania around cryptocurrency. It's a devastatingly well-told story of greed, con men, and endless gullibility. McKenzie goes down the rabbit hole, only to become a full-throated skeptic who then takes us along on his journey of enlightenment and discovery, proving once again that if something seems too good to be true, it probably is."
— William D. Cohan New York Times bestselling author of Power Failure and House of Cards
"Superb . . . the terrible story of our economic times."
— Julian Zelizer, coeditor of Myth America and professor of history and public affairs at Princeton University
"Easy Money is a deceptively ambitious project—at once a riveting account of the financial crime of the century, and a thoughtful meditation on the nature of democracy and what we owe each other." 
— Zachary Carter, author of The Price of Peace: Money, Democracy, and the Life of John Maynard Keynes
"Easy Money is a smart, fast-paced, and timely exposé of corporate greed, fraud, and incompetence masquerading as genius. Simultaneously illuminating and infuriating, authors McKenzie and Silverman's page-turning book goes on a global journey to explain how crypto is the latest Ponzi scheme orchestrated to seduce and defraud the masses while benefitting the very few."
— Wajahat Ali, author of Go Back to Where You Came From
"The perfect guide to the recent bitcoin hysteria…. gripping."
— Financial Times