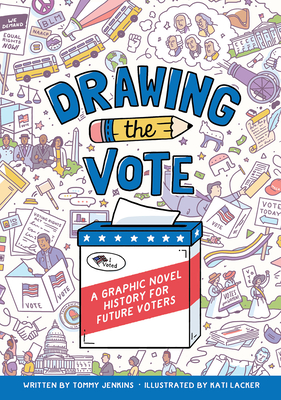 Drawing the Vote: A Graphic Novel History for Future Voters
Publication Date:
August 30th, 2022
Publisher:
Amulet Paperbacks
Special Order - Subject to Availability
Description
This updated edition of Drawing the Vote, an original graphic novel, looks at the history of voting rights in the United States and how it affects the way we vote today.
 
Introduction by Martha Jones
 
Author Tommy Jenkins identifies events and trends that led to the unprecedented results of the 2016 presidential election that left American political parties more estranged than ever. To balance these complex ideas and statistics, Kati Lacker's original artistic style makes the book accessible for readers of all ages.
 
At a time when many citizens are experiencing challenges and apathy about voting and skepticism concerning our bitterly divided government, Drawing the Vote seeks to offer some explanation for how we got here and how every American can take action to make their vote count.
 
This expanded edition features an additional 32 pages of comics that cover the results of the 2020 presidential election and the factors that shaped it, including the COVID-19 pandemic and the January 6 insurrection.
 
 
Praise for Drawing the Vote: A Graphic Novel History for Future Voters
"Jenkins's rousing work will inspire students to educate themselves on the issues—and, when the time comes, to vote early and often."
— School Library Journal - STARRED review
"This is a great year to brush up voting rights, especially the laws surrounding distance voting, and this book is a great start."
— GeekMom
"Written with a progressive tone, this work's clear factual nature makes it a worthy read for anyone across the political spectrum…"
— Library Journal
"A panoptic history of the vote that breaks down everything from gerrymandering to Americans for Prosperity's dark influence, Drawing the Vote is a great pick for both adults and young Americans who want to understand what it means to be a voter."
— Shelf Awareness
"The exposition and Lacker's simple but energetic illustrations combine to pack valuable information on each page, while making even complex issues (such as the racism of white suffragists who fought for the 19th Amendment) easy to follow. Suited best to younger readers new to the topic, Jenkins's work lays out the high-stakes history clearly and succinctly."
— Publishers Weekly