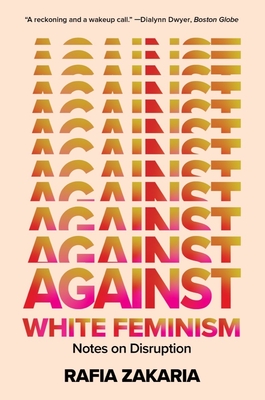 Against White Feminism: Notes on Disruption
Publication Date:
September 20th, 2022
Publisher:
W. W. Norton & Company
The MIT Press Bookstore
1 on hand, as of Nov 30 10:32am
(SS:GS)
On Our Shelves Now
Description
A radically inclusive, intersectional, and transnational approach to the fight for women's rights.
Upper-middle-class white women have long been heralded as "experts" on feminism. They have presided over multinational feminist organizations and written much of what we consider the feminist canon, espousing sexual liberation and satisfaction, LGBTQ inclusion, and racial solidarity, all while branding the language of the movement itself in whiteness and speaking over Black and Brown women in an effort to uphold privilege and perceived cultural superiority. An American Muslim woman, attorney, and political philosopher, Rafia Zakaria champions a reconstruction of feminism in Against White Feminism, centering women of color in this transformative overview and counter-manifesto to white feminism's global, long-standing affinity with colonial, patriarchal, and white supremacist ideals.
Covering such ground as the legacy of the British feminist imperialist savior complex and "the colonial thesis that all reform comes from the West" to the condescension of the white feminist–led "aid industrial complex" and the conflation of sexual liberation as the "sum total of empowerment," Zakaria follows in the tradition of intersectional feminist forebears Kimberlé Crenshaw, Adrienne Rich, and Audre Lorde. Zakaria ultimately refutes and reimagines the apolitical aspirations of white feminist empowerment in this staggering, radical critique, with Black and Brown feminist thought at the forefront.
Praise for Against White Feminism: Notes on Disruption
Rafia Zakaria's Against White Feminism is the book I have been waiting for. This landmark work will forever change how we view the feminist movement and our place in it.
— Sonia Faleiro, author of Beautiful Thing
Zakaria's Against White Feminism is a brilliant, bracing, and deeply necessary text. Showing how feminism had systematically centered white women's voices, and excluded others', this is a polemic that couldn't be more urgent in improving feminism as a movement.
— Kate Manne, author of Down Girl
This necessary book is a critique of how whiteness (not white women) has infiltrated feminism and how it should be razor-bladed out of the current form.… Zakaria is a warmhearted and sharp-eyed writer who brings compassion, intelligence, and a steady drumbeat of change to redefining term—feminism—a word that is old and soggy and full of white ladies yelling about things. This book is going to light fires everywhere, so if you are prone to combust, get right the hell out of the way.
— Kerri Arsenault - Literary Hub
Intellectually resourceful and passionately argued, Rafia Zakaria's sharp and salutary essay expands and refines our ideas of freedom, justice and equity.
— Pankaj Mishra, author of Bland Fanatics: Liberals, Race, and Empire
Full of painful truths about how one kind of feminism can dominate and silence women. A fantastic book.
— Nadifa Mohamed, author of The Fortune Men
This ambitious, elegant and brilliantly argued polemic shows us how white supremacy harms Black and brown women, and offers a different politics in its place. I am grateful for this book.
— Myriam Chingona Gurba De Serrano, author of Mean
Zakaria's frank, spirited critique of feminism's historical complicity with empire and capital, its appalling insularity, and its deep-seated provincialism opens onto a shimmering vision of true solidarity. This is, quite simply, a transformative book.
— Merve Emre, author of The Annotated Mrs. Dalloway
Uncomfortable, often coruscating, always challenging in the best ways and never less than riveting, this book is essential reading, and especially for anyone white who identifies as a feminist. Rafia Zakaria neatly dismantles the stand-on-the-shoulders-of-giants school of white feminism that in failing to understand the intertwined history of the women's movement and white supremacy continues to perpetuate the inequalities it purports to address. She doesn't just deliver punchy, corrective narratives, but achieves something at least as important in questioning where we get our ideas and encouraging critical thinking.
— Catherine Mayer, author and co-founder of the Women's Equality Party
A lucid and persuasive argument that feminism must address its "problematic genealogies" of whiteness... Tackling complex philosophical ideas with clarity and insight, Zakaria builds an impeccable case for the need to rebuild feminism from the ground up. Readers will want to heed this clarion call for change.
— Publishers Weekly
A reckoning and a wakeup call to the degree to which we really need to tear down and reexamine our systems of activism that we're already trying to use to change the world.
— Dialynn Dwyer - Boston Globe
[Zakaria's] examination of current examples from politics and pop culture furnishes crucial evidence of the continued colonization of feminism by white women. She brings this conversation into mainstream view.
— Siobhan Egan - Library Journal
An exploration of the divisive effects of Whiteness on feminism and a strong argument for transforming long-standing power structures... A worthy contribution to feminist and activist studies.
— Kirkus
Zakaria lays out the damage white feminism
has wrought in clear, unflinching terms and urges readers to commit to a feminism that is truly
collective and global.
— Jenny Hamilton, Booklist (starred review)
Passionate and provocative. . . the heart of what this book demands—a feminism that is less self-satisfied and secure in its power, more curious about the differences in women's experiences, and more generous and expansive in its reach—is worth fighting for.
— Mythili G. Rao - Washington Post
A bold call to action to eradicate white supremacy and neoliberalism from feminism in order for the movement to have a future, Zakaria analyzes the historical ties between white women-led suffrage and imperialism, and the dangers of global philanthropy that doesn't seek input from supposed beneficiaries.
— Kylie Cheung - Salon
This steely, incisive critique deserves your attention.
— Jenny Bhatt - NPR
Zakaria's Against White Feminism offers the most rigorous critique of equality, especially when it is conceived of as an American ideal 'gifted to' or imposed upon the rest of the world.
— Marcie Bianco - Los Angeles Review of Books
Zakaria sharply critiques the Betty Friedan-descended 'trickle-down feminism' that has long dominated politics, tracing the 'agenda of colonialism' in empowerment narratives and challenging white women's support for existing power structures.
— Ruth Etiesit Samuel - Los Angeles Times
A blistering revolutionary tract that seeks to expunge whiteness from the feminist movement…[Against White Feminism] will polarise opinion but is impossible to ignore.
— Mehreen Khan - Financial Times
Combining personal anecdotes with historical analysis, these essays examine such linked phenomena as the 'white savior industrial complex,' 'securo-feminism,' and the commodification of sexual liberation. Zakaria calls for a feminism that is not only centered on the experiences of women of color but also, more broadly, seeks to counter 'whiteness'…Her argument spans centuries and continents.
— The New Yorker
[Against White Feminism] is more than just a reframing of feminism; it is Zakaria holding truth to power.
— Brian Ng - Harper's Bazaar
Glued to the pages, I read the book in one sitting. Want to think seriously about the exquisite power of 'personal is political?' Want to think carefully about privilege - and White privilege? This is your book... [Against White Feminism is] a call to address our complicity in structures of power.
— Ruby Lal - Arts ATL