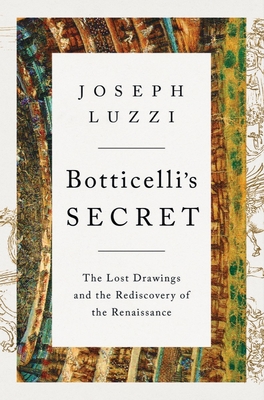 Botticelli's Secret: The Lost Drawings and the Rediscovery of the Renaissance
Publication Date:
October 25th, 2022
Publisher:
W. W. Norton & Company
The MIT Press Bookstore
1 on hand, as of Dec 7 10:28am
(ART)
On Our Shelves Now
Description
Shortlisted for the 2023 Phi Beta Kappa Society Ralph Waldo Emerson Prize
A New Yorker Best Book of 2022
A Guardian Book of the Day
"Brilliantly conceived and executed, Botticelli's Secret is a riveting search for buried treasure." —Stephen Greenblatt, author of The Swerve
Some five hundred years ago, Sandro Botticelli, a painter of humble origin, created works of unearthly beauty. A star of Florence's art world, he was commissioned by a member of the city's powerful Medici family to execute a near-impossible project: to illustrate all one hundred cantos of The Divine Comedy by Dante Alighieri, the ultimate visual homage to that "divine" poet.
This sparked a gripping encounter between poet and artist, between the religious and the secular, between the earthly and the evanescent, recorded in exquisite drawings by Botticelli that now enchant audiences worldwide. Yet after a lifetime of creating masterpieces including Primavera and The Birth of Venus, Botticelli declined into poverty and obscurity. His Dante project remained unfinished. Then the drawings vanished for over four hundred years. The once famous Botticelli himself was forgotten.
The nineteenth-century rediscovery of Botticelli's Dante drawings brought scholars and art lovers to their knees: this work embodied everything the Renaissance had come to mean. From Botticelli's metaphorical rise from the dead in Victorian England to the emergence of eagle-eyed connoisseurs like Bernard Berenson and Herbert Horne in the early twentieth century, and even the rescue of precious art during World War II and the fall of the Berlin Wall in 1989, the posthumous story of Botticelli's Dante drawings is, if anything, even more dramatic than their creation.
A combination of artistic detective story and rich intellectual history, Botticelli's Secret shows not only how the Renaissance came to life, but also how Botticelli's art helped bring it about—and, most important, why we need the Renaissance and all that it stands for today.
Praise for Botticelli's Secret: The Lost Drawings and the Rediscovery of the Renaissance
Wide-ranging...[Luzzi] reads Botticelli's drawings as "a 'poem' in their own regard," and as a crucial link in the "mapping of the human spirit's transition" from one era to the next.
— The New Yorker
Replete with unexpected twists and dangling threads, the trajectory of Botticelli's Dante illustrations nonetheless becomes, in Luzzi's telling, a story about the force of art to shape lives.
— Claire Messud - Harpers
A lively book…[Luzzi] brilliantly sets the operatic stage of vibrant, violent Renaissance Florence and brings to life the characters who helped resurrect Botticelli.
— Max Norman - Wall Street Journal
In his new book, Joseph Luzzi tells the fascinating story of Botticelli's life and afterlife, focusing on the many revealing twists and turns that the unfinished illustrations of Dante's Divine Comedy, among the artist's most acclaimed works, took to reach the present.
— John M. Wisdom - The New Criterion
The research that has gone into [Luzzi's Botticelli's Secret] is impressive and inspiring. Anyone who wants a short dramatic book about Renaissance Florence should reach for this title first. Luzzi has written so much more than the story of one artist's fascinating commission. He's created a vivid portrait of culture, politics, and daily life in the city that has become the very image of Renaissance history.
— Marissa Moss - New York Journal of Books
The Italian Renaissance has rarely been so brilliantly examined or put before us in such a delectable style. I would recommend Botticelli's Secret to anyone who loves art, who enjoys good storytelling, and who is interested in how the human spirit rediscovered itself in such a magnificent and dramatic fashion.
— Jay Parini, author of Borges and Me
Luzzi's best book yet, full of intimate and personal insights into the masters and masterpieces of Renaissance Italy and told with his unique blend of scholarship and superb storytelling.
— Ross King, author of Leonardo and the Last Supper
Botticelli's Secret is sheer delight from beginning to end. Under the guise of tracing a fascinating history, this book finally presents a compelling brief for the lasting importance to all of us, as thinking, feeling people, irrespective of nation [or] social class, of coming face-to-face with transcendent human endeavor.
— Ingrid Rowland, coauthor of The Collector of Lives
Brilliantly conceived and executed, is a riveting search for buried treasure. Luzzi takes one of the Florentine master's least familiar works, his cycle of illustrations of Dante's Divine Comedy, and, tracing its history along winding passages from the fifteenth century to our own time, uses it to unearth the astonishing riches of the whole Italian Renaissance.
— Stephen Greenblatt, author of Tyrant
Richly detailed and fluidly written, this is a master class in art history.
— Publishers Weekly