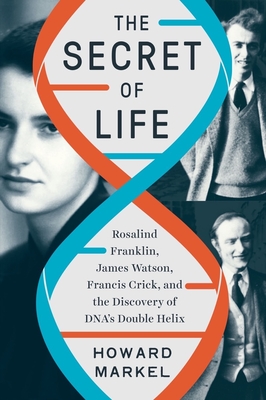 The Secret of Life: Rosalind Franklin, James Watson, Francis Crick, and the Discovery of DNA's Double Helix
Publication Date:
September 21st, 2021
Publisher:
W. W. Norton & Company
The MIT Press Bookstore
1 on hand, as of Sep 21 10:34am
(GS)
On Our Shelves Now
Description
An NPR Best Book of the Year
An authoritative history of the race to unravel DNA's structure, by one of our most prominent medical historians.
James Watson and Francis Crick's 1953 discovery of the double helix structure of DNA is the foundation of virtually every advance in our modern understanding of genetics and molecular biology. But how did Watson and Crick do it—and why were they the ones who succeeded?
In truth, the discovery of DNA's structure is the story of five towering minds in pursuit of the advancement of science, and for almost all of them, the prospect of fame and immortality: Watson, Crick, Rosalind Franklin, Maurice Wilkins, and Linus Pauling. Each was fascinating and brilliant, with strong personalities that often clashed. Howard Markel skillfully re-creates the intense intellectual journey, and fraught personal relationships, that ultimately led to a spectacular breakthrough. But it is Rosalind Franklin—fiercely determined, relentless, and an outsider at Cambridge and the University of London in the 1950s, as the lone Jewish woman among young male scientists—who becomes a focal point for Markel.
The Secret of Life is a story of genius and perseverance, but also a saga of cronyism, misogyny, anti-Semitism, and misconduct. Drawing on voluminous archival research, including interviews with James Watson and with Franklin's sister, Jenifer Glynn, Markel provides a fascinating look at how science is done, how reputations are undone, and how history is written, and revised.
A vibrant evocation of Cambridge in the 1950s, Markel also provides colorful depictions of Watson and Crick—their competitiveness, idiosyncrasies, and youthful immaturity—and compelling portraits of Wilkins, Pauling, and most cogently, Rosalind Franklin. The Secret of Life is a lively and sweeping narrative of this landmark discovery, one that finally gives the woman at the center of this drama her due.
Praise for The Secret of Life: Rosalind Franklin, James Watson, Francis Crick, and the Discovery of DNA's Double Helix
Howard Markel—physician, professor and gifted writer—tells the story [of DNA] again, setting scenes and shrewdly capturing the character and motivations of the central players.... [H]is depiction of the clash of personalities is superb.
— Katherine A. Powers - Washington Post
Markel's engrossing book makes a convincing case that Franklin deserves much more recognition; science lovers and laypeople alike will be drawn in by this compelling story.
— Michael Schaub - NPR
A cinematic account of toxic masculinity among 1950s DNA researchers.... [Rosalind Franklin] probably would have hated being the heroine of a movie, but we're fortunate to have books such as this to put her back in the picture.
— Katy Guest - The Guardian
Howard Markel's brilliant book examining the discovery of DNA is a 'must-read' for biologists and historians. But this is also a book for every reader; it brings to life the discovery of life itself. From Watson, Crick, and Franklin to the dozens of characters that Markel includes, The Secret of Life covers vast and important ground…An indispensable work.
— Siddhartha Mukherjee, Pulitzer Prize–winning author of The Emperor of All Maladies and The Gene
The discovery of DNA is one of history's light-switch moments, when the world of science—indeed, humanity—changed forever. Though much has been written on the subject, nothing remotely compares to Howard Markel's magisterial account. Elegantly written, packed with fresh insights gleaned from a wealth of original sources, The Secret of Life takes us into the minds and laboratories of the leading players, highlighting their brilliance, their ambitions, and their sometimes questionable ethical behavior. This book is the merging of a seminal subject and superb author—one of the leading medical historians of our era. The result is truly remarkable.
— David Oshinsky, professor of history and medicine, NYU, and Pulitzer Prize–winning author of Polio: An American Story
Howard Markel's wonderfully written book, The Secret of Life, explores the story of genetics up to the revolutionary mid-twentieth century decoding of the structure of DNA. And it does so in such brilliant detail that the result is—even for those who might think they know this story—a tale that proves fresh, provocative, startlingly insightful, and addictively fun to read.
— Deborah Blum, Pulitzer Prize–winning author of The Poison Squad: One Chemist's Single-Minded Crusade for Food Safety at the Turn of the Twentieth Century
A deft and deeply researched book, The Secret of Life definitively unravels the most profound scientific mystery of our time and the brilliant, complex, and often conflicting personalities competing to describe the looped architecture of existence. With this story behind the story of life, Howard Markel expertly guides us back to a place of wonder.
— Charles Graeber, New York Times best-selling author of The Good Nurse and The Breakthrough: Immunotherapy and the Race to Cure Cancer
The Secret of Life captures the heart-pounding excitement, the unique personalities, and the interplay of chance, inspiration, doggedness, and sound scientific method that allowed for the decoding of DNA. Markel's skills as a trained historian, a physician, and an accomplished writer allow this watershed moment in science to come alive and to be a page turner. A marvelous book!
— Abraham Verghese, MD, professor of medicine, Stanford University School of Medicine, and author of Cutting for Stone
There is no shortage
of excellent histories, but Markel ... has written one of the best.... A
brilliant addition to the literature on the history of biological discovery.
— Kirkus, starred review
Epic.... Markel masterfully demonstrates how temperaments, pettiness, and the pursuit of prestige can poison science. An illuminating and candid resetting of a pivotal moment in science, with characters who often cross the line between antagonist and protagonist.
— Booklist, starred review
Markel unifies the timeline and gives voice to the scientific and personal thoughts of the principal scientists.... Enjoyable.
— Library Journal, starred review
[An] action-packed
history.... Markel skillfully explains the knotty science behind the
breakthrough and highlights the clash of outsize personalities.... This
wonderfully evocative tale sings.
— Publishers Weekly