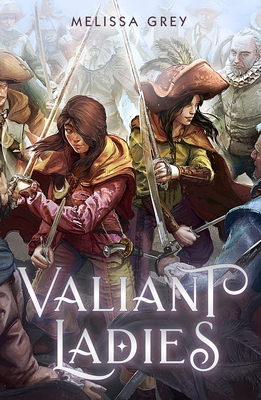 Valiant Ladies
Publication Date:
May 16th, 2023
The MIT Press Bookstore
1 on hand, as of Dec 6 1:49pm
(JR:YA)
On Our Shelves Now
Description
Two teen vigilantes set off on an action-packed investigation to expose corruption and deliver justice in Valiant Ladies, Melissa Grey's YA historical fiction novel inspired by real seventeenth century Latinx teenagers known as the Valiant Ladies of Potosí.
By day Eustaquia "Kiki" de Sonza and Ana Lezama de Urinza are proper young seventeenth century ladies. But when night falls, they trade in their silks and lace for swords and muskets, venturing out into the vibrant, bustling, crime-ridden streets of Potosí, in the Spanish Empire's Viceroyalty of Peru. They pass their time fighting, gambling, and falling desperately in love with one another.
Then, on the night Kiki's engagement to the Viceroy's son is announced, her older brother—heir to her family's fortune—is murdered. The girls immediately embark on a whirlwind investigation that takes them from the lowliest brothels of Potosí to the highest echelons of the Spanish aristocracy.
Praise for Valiant Ladies
"Valiant Ladies brings the remarkable lives of two forgotten women to vivid, riotous life. Delightfully ahistorical, terribly romantic (have you ever shipped sword lesbians harder??), and all steeped in vigilante justice hell bent on taking down a violent patriarchy--there's only one word for it: badass." -- Mackenzi Lee, author of the New York Times bestselling The Gentleman's Guide to Vice and Virtue
"Vibrant, fresh, and filled with swashbuckling mystery, Valiant Ladies instantly sucked me in. I rooted for Kiki and Ana, and I fell entirely into seventeenth century Peru. Melissa Grey's bright, propulsive prose brings the stories of these real historical figures' so fully and colorfully to life." -- Susan Dennard, author of the New York Times-Bestselling Witchlands series
"Kiki and Ana's journey, from start to finish, will take you on the ride of a lifetime. Grey's words easily transport you to Potosí, bringing to life a vibrant city that has it all. It makes me wish I could grab my own dagger, hide it under a ball gown, and join them along on this adventure." -- Tamara Fuentes, Associate Entertainment Editor, Cosmopolitan
"Valiant Ladies is a tour de force, a magnificent swashbuckling adventure in 17th century Potosí. Brimming with action, intrigue, and yes a ballroom scene, Melissa Grey has crafted something truly special." -- Rachel Strolle, Teen Services Coordinator, Glenside Public Library District