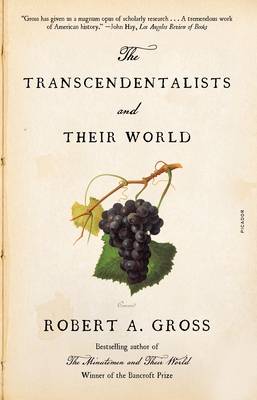 The Transcendentalists and Their World
Publication Date:
November 8th, 2022
The MIT Press Bookstore
2 on hand, as of Dec 7 10:28am
(PHILO)
On Our Shelves Now
Description
From the eminent and award-winning historian Robert A. Gross comes his long-awaited, immersive journey through Concord in the age of Emerson and Thoreau, The Transcendentalists and Their World.
One of The Wall Street Journal's 10 Best Books of 2021
Why Concord? How did a small and seemingly quiet village in the hinterlands of Boston become, by popular reckoning, the birthplace of two revolutions—the American War of Independence that began with shots fired by the local Minutemen, and the American Renaissance of literature and thought that began with the Transcendentalists' challenge to established pieties? In The Transcendentalists and Their World, the distinguished historian Robert A. Gross gives a rich and beautifully detailed account of the town that Ralph Waldo Emerson, Henry David Thoreau, Nathaniel Hawthorne, and the Alcotts called home. Their Concord, he shows, was primed for revolt, and was hardly a sleepy, bucolic place fit only for poets and philosophers.
The Transcendentalists and their neighbors lived in an age of transformation. A place of more than two thousand souls in the antebellum era, Concord was a community in ferment, one whose small, ordered society, founded by Puritans and defended by Minutemen, was dramatically unsettled by the expansive forces of capitalism and democracy while the town became more tightly integrated with the wider world. These changes posed a challenge to a society built on inherited institutions and involuntary associations as citizens placed a new premium on autonomy and choice. Concord was ripe for Emerson and Thoreau.
The Transcendentalists and Their World is both an intimate journey into the life of a town and a searching cultural study of major American writers as they plumbed the reaches of the universe for spiritual truths—and took stock of the rapidly changing contours of their surroundings. It shows us familiar literary figures alongside their neighbors—white and Black, devout and blasphemous, and situated at every level of the social order—and it reveals how this common life in Concord entered powerfully into their works. No American community has been recovered so richly and located so meaningfully within the larger American story.
Praise for The Transcendentalists and Their World
"Gross has delivered a second harvest of his career-long work. It is a measured, beautiful volume that brings warm life, accuracy, and complexity to local history, swooping between the bird's-eye view and the tracery of many individual destinies . . . Absorbing . . . Illuminating." —Mark Greif, The Atlantic
"Compelling . . . Gross has given us a magnum opus of scholarly research . . . The amount of archival labor-hours that went into this production is staggering, and the mountain of concrete facts that Gross is able to establish from the historical record provides an impressive background to his accounts of everyday life . . . [Gross's] book transcends its small-town subject. It is a tremendous work of American history." —John Hay, Los Angeles Review of Books
"Concord is the subject of Robert Gross's monumental The Transcendentalists and Their World, easily the most comprehensive work ever written about the town's social history during the transcendentalist era . . . Gross's historiography is patient, thorough, cumulative . . . Gross's richly detailed account shows us how such a surprising conjunction of place and thought could occur." —Randall Fuller, The Wall Street Journal
"This new work completes Gross's magisterial social history of the sleepy, yet significant town of Concord, Massachusetts . . . It is a model of exhaustive research, penetrating analysis, and moving prose . . . Gross is especially successful at demonstrating how women played an often overlooked role . . . The Transcendentalists and Their World is a landmark work." —Benjamin Park, New England Quarterly
"An astonishing feat of granular history, The Transcendentalists and Their World skillfully weaves into a range of interlocking narratives the material that Gross has unearthed in diaries, letters, newspapers and pamphlets . . . Each of [Gross's] extended vignettes simultaneously reveals prodigious research, a deft eye for detail and a well-honed gift for storytelling . . . Surely [the] definitive history of Concord in this era." —Mark Ford, Times Literary Supplement
"Gross ably depicts how Concord shaped [Emerson and Thoreau], and how they also departed from town norms . . . It's hard not to respect this labor of a lifetime. [Gross's] scholarship, based on research in many other libraries as well, is impeccable . . . An essential work on these towering figures of American literature." —Dan Cryer, The Boston Globe
"A magisterial, sprawling portrait of the corners of 19th-century America that fostered a revolution of thinking about individualism and democracy. It's an engrossing study of radical ideas reaching everyday people." —Chicago Tribune
"The level of detail Gross brings to The Transcendentalists and Their World is its most enjoyable [feature] . . . Here are people—a lot of them—in their full glory, both coming together in a building social spirit and also chafing at the social worlds they cannot escape." —Sarah Blackwood, The New Republic
"The Transcendentalists and Their World is rich and revealing on every page." —Cullen Murphy, Air Mail
"[Robert A. Gross] is an archival lion, bent on leaving no ort, scrap, or fragment behind. The prose is understated and shapely, the footnotes Homeric. Social detail accretes like a coral reef. Gross is especially good at recovering moments that deliver a short, sharp shock to postmodern sensibilities . . . [The Transcendentalists and Their World] is a symphony." —Anne Matthews, The American Scholar
"[An] extraordinarily comprehensive, penetrating and intimate community study." —Glenn C. Altschuler, Minneapolis Star Tribune
"A weighty study of the hottest setting of literary-philosophical thought in antebellum America." —Mark Bauerlein, First Things
"Through painstaking research, Gross tracks a fracturing community in order to better understand how, and why, Transcendentalism took root in this New England village . . . Gross's work provides a powerful model for any historian seeking to understand the complex relationship between community and culture." —Camden Burd, Journal of the Early Republic
"This new work completes Gross's magisterial social history of the sleepy, yet significant town of Concord, Massachusetts . . . It is a model of exhaustive research, penetrating analysis, and moving prose . . . Gross is especially successful at demonstrating how women played an often overlooked role . . . The Transcendentalists and Their World is a landmark work." —New England Quarterly
"Through painstaking research, Gross tracks a fracturing community in order to better understand how, and why, Transcendentalism took root in this New England village . . . Gross's work provides a powerful model for any historian seeking to understand the complex relationship between community and culture." —Camdeb Burd, Journal of the Early Republic
"Enchanting . . . This is a book about transcendentalists, but more so it is a book about modernity . . . . [It] is a major accomplishment and should frame discussions of transcendentalism and the social history of the early republic for years to come . . . The Transcendentalists and Their World . . . is social history at its very best—uncovering and recreating the lives of everyday people and showing how those lives matter. There is a beautiful democracy to Gross's writing; in the hands of this skilled historian a long-forgotten farmer like Daniel Hunt, making decisions about what crops to sow, proves to be as interesting and important as some of the most famous thinkers in American history." —Peter Wirzbicki, H-Early America
"Highly informative, often absorbing . . . An ambitious work of intense scholarship densely sourced and clearly written with passion and thoroughness. None will deny that Gross has pulled off an impressive feat of historical writing." —Rosemary Michaud, The Post and Courier (Charleston)
"A rich and immersive portrait of 19th-century Concord, Massachusetts, and the Transcendentalist movement that originated there . . . Seamlessly integrating a wealth of primary and secondary sources into his narrative, Gross brings 19th-century New England to vivid life . . . This sweeping study brilliantly illuminates a crucial period in American history." —Publishers Weekly (starred review)
"A deeply researched inquiry . . . Drawing on prodigious scholarly and archival sources, Gross creates a vibrant portrait of Concord, Massachusetts, as a thriving village that, from the 1820s to the 1840s, confronted evolving intellectual, economic, social, political, and spiritual pressures . . . A vigorous, compelling American history." —Kirkus Reviews (starred review)
"Award-winning historian Gross looks at the small but not closed world of Concord, Massachusetts, and asks: why did the cultural ideal of individualism come to the front there in the 1830s? . . . [A] lively social and cultural history." —Library Journal (starred review)
"A thoroughly researched work, Robert Gross's The Transcendentalists and Their World plants you firmly in the rich soil of Concord as an intellectual revolution, containing a uniquely American form of individualism, is established. In this remarkable feat of scholarship, Gross contextualizes the transcendental thinking of Emerson and Thoreau. Their insights—on nature, on resisting the status quo, on being—endure, and this work by Gross will endure as well." —Ken Burns
"In what amounts to a riveting dual biography of American icons Ralph Waldo Emerson and Henry David Thoreau, Robert A. Gross offers up a history of a small town that is also the history of our nation. Artfully crafted and a pleasure to read, The Transcendentalists and Their World convincingly answers the perennial question, "Why Concord?": the intellectual flowering known variously as the American Renaissance, American Romanticism, and Transcendentalism, could have begun nowhere else." —Megan Marshall, Pulitzer Prize–winning author of Margaret Fuller: A New American Life, The Peabody Sisters, and Elizabeth Bishop: A Miracle for Breakfast
"This book is a Hope Diamond of history-writing, a brilliant successor to that little gem, The Minutemen and Their World. Although much larger and richer, this story of Concord in the age of Emerson and Thoreau has the same social and cultural wholeness, the same easy, readable prose, and the same reverberating significance as the earlier book. Well worth waiting for, it is surely the most complete history of an early American town ever written." —Gordon S. Wood, Pulitzer Prize–winning author of The Radicalism of the American Revolution and Power and Liberty
"Concord, Massachusetts was the cultural epicenter of nineteenth-century America, an extraordinarily rich breeding ground of philosophy and literature. No one knows Concord as well as Robert A. Gross. In this ground-breaking, wonderfully researched book, Gross limns the web of personal connections and cultural movements that produced some of America's greatest writings." —David S. Reynolds, author of Walt Whitman's America and Abe: Abraham Lincoln in His Times
"Robert Gross's long-awaited magnum opus, packed with insight and exhaustively researched, is essential reading for all readers with a serious interest in Emerson, Thoreau, and the history of New England Transcendentalism." —Lawrence Buell, Powell M. Cabot Professor of American Literature Emeritus at Harvard University
"An array of Concord, Massachusetts databases—four decades in the making—enable Robert Gross to narrate, for the real people of his town, what Thornton Wilder had to invent for the people of Our Town: astonishing stories of evolving relationships, not just of luminaries like Emerson and Thoreau but of cotton-mill girls, Anti-Masonic demagogues, Black laborers and Irish railroad workers just hanging on in Walden Woods, and Emerson's more radical and (for my money) more interesting Aunt Mary. Gross's stories crackle like the fire you would do well to read them by, just as we would expect from this one-time Newsweek writer and author of the prizewinning Minutemen and their World. Savoring them gives us unprecedented access to the birth of individualism, village capitalism, democracy, religious diversity, women's activism—in short, the modern world." —Woody Holton, author of Liberty is Sweet: The Hidden History of the American Revolution
"This book is a magnificent achievement, combining decades of research with a rare literary grace. While making it look easy, Robert Gross does what is nearly impossible, fusing deep social history with a penetrating analysis of the Transcendentalists and their writing. By grounding these celestial thinkers in a specific patch of earth, he has given a rare gift to his readers, and completed a process that began with The Minutemen and Their World in 1976. It strikes me as an achievement worthy of Emerson and Thoreau themselves." —Ted Widmer, author of Lincoln on the Verge
"In vivid prose and with keen insights, Robert Gross reveals the legacies of revolution and subsequent commercial transformation in a small town famous for its philosophers. Rich in historical irony, The Transcendentalists and Their World wryly explores how past and present defined intellectuals, who claimed to have freed themselves from both." —Alan Taylor, author of American Republics: A Continental History of the United States, 1783-1850
"Robert Gross has given us something radically new: a deep social biography of a place and an idea. Concord, Massachusetts becomes nothing less than a living laboratory for understanding the profound transformation of American life from the common good to individualist self-discovery. The Transcendentalists and Their World is place-based social and intellectual history drawn from under the very feet of the men and women who wrote it. Emerson and Thoreau are here, but so are their friends and neighbors, famous, infamous, and obscure, each of them weaving the pattern of social life through their choices and decisions. The result is fascinating, revelatory—and unsettling, for this book quietly and persistently undermines whole structures of facile assumptions about who the Transcendentalists were, and how America got to be this way. An instant classic. Read it! and get ready to rethink everything you thought you knew." —Laura Dassow Walls, author of Henry David Thoreau: A Life
"Robert Gross brilliantly portrays the social, religious, and political forces in Concord that nourished what Emerson called 'the fields of my fathers.' By demonstrating how these passions and the men and women behind them shaped the early, productive lives of Emerson and Thoreau, Gross contextualizes as never before the environments in which the Transcendentalists and their literary neighbors like Hawthorne flourished, and how they shaped their interactions with the wider world. If Gross's The Minutemen and Their World followed the road to America's political independence, then this book, his magnum opus, describes and traces the ideas that helped initiate America's s literary and intellectual independence." —Joel Myerson, Carolina Distinguished Professor of American Literature Emeritus at the University of South Carolina, co-author of The Emerson Brothers, and editor of Transcendentalism: A Reader