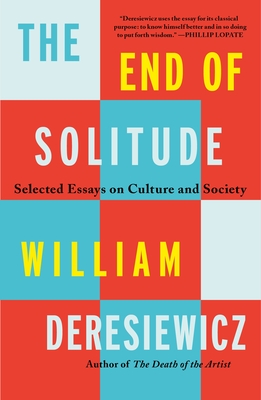 The End of Solitude: Selected Essays on Culture and Society
Publication Date:
August 8th, 2023
Publisher:
Holt Paperbacks
The MIT Press Bookstore
1 on hand, as of Dec 5 4:07pm
(SS)
On Our Shelves Now
Description
A passionate, probing collection gathering nearly thirty years of groundbreaking reflection on culture and society alongside four new essays, by one of our most respected essayists and critics—former Yale English professor and National Book Critics Circle Award-winner William Deresiewicz.
What is the internet doing to us? What is college for? What are the myths and metaphors we live by? These are the questions that William Deresiewicz has been pursuing over the course of his award-winning career. The End of Solitude brings together more than forty of his finest essays, including four that are published here for the first time.
Ranging widely across the culture, they take up subjects as diverse as Mad Men and Harold Bloom, the significance of the hipster, and the purpose of art. Drawing on the past, they ask how we got where we are. Scrutinizing the present, they seek to understand how we can live more mindfully and freely, and they pose two fundamental questions: What does it mean to be an individual, and how can we sustain our individuality in an age of networks and groups?
Praise for The End of Solitude: Selected Essays on Culture and Society
"[Deresiewicz] constructs beautiful sentences which often remind me of the late novelist Philip Roth. Like Roth, Deresiewicz is whip smart, erudite, and an artisan of language."
—California Review of Books
"These 42 thematically wide-ranging and bottomlessly rewarding essays demonstrate the author's amiable skepticism and not-quite contrarianism."
—Shelf Awareness
"When Deresiewicz, the winner of a National Book Critics Circle award for excellence in reviewing, has a juicy target, it can be surprisingly good fun: His assault on Harold Bloom's late-era woolliness is a classic takedown, and his jeremiad about the folly of elevating food to an art form is debatable in the right way: a provocation with enough facts behind it to be worth discussing."
—Kirkus
"Deresiewicz eviscerates 'groupthink' in this razor-sharp collection...[he] anatomizes modern life with skill and fierce conviction. Readers will relish grappling with these erudite provocations."
—Publishers Weekly
"William Deresiewicz is the most readable and reasonable, persuasive and penetrating, uncompromising and understanding of critics. The End of Solitude is consistently stimulating, at once classic and contemporary."
—Geoff Dyer, author of The Last Days of Roger Federer: And Other Endings
"William Deresiewicz is his own man, he thinks for himself, and he has thought deeply about the way we live now. So much of what he says is right on the money, but even where one might disagree, he is always stimulating and provocative. He uses the essay for its classical purpose: to know himself better and in so doing to put forth wisdom."
—Phillip Lopate, editor of The Golden Age of the American Essay: 1945–1970

"William Deresiewicz is one of the important cultural critics of our age. His essays are morally rigorous, perfectly stylish, and a joy to read. But more than that, they are good for the soul. They provide a blueprint for how his readers can be better humans."
—Franklin Foer, author of World Without Mind: The Existential Threat of Big Tech
"William Deresiewicz is one of my favorite cultural critics working today and these essays remind me why. He doesn't just interpret the culture; he builds onto it as he goes. Through sheer force of his own fine writing, he makes more culture. He also makes a kind of exultant and endless sense. His subjects here are wide-ranging—he examines everything from education to technology to friendship—but his depth of knowledge and precision of thought make this collection its own succinct and deeply satisfying entity. It will be a permanent fixture on my bookshelf."
—Meghan Daum, author of The Problem with Everything: My Journey Through the New Culture Wars
"William Deresiewicz is my favorite lapsarian: lapsed Jew, lapsed academic, probably a lapsed liberal (though definitely not a conservative). But that's just because, as these totally absorbing essays show, he is too restless to stay in one place, or in one camp. For Deresiewicz, labels are temporary and dispensable, even as virtuous practices — like friendship, loyalty, close reading, and a good walk, in person, with no electronic devices — are eternal."
—Mark Oppenheimer, author of Squirrel Hill: The Tree of Life Synagogue Shooting and the Soul of a Neighborhood

"Restless, shrewd, probing, melancholic (in a good way!), William Deresiewicz's essays seek out the largest of questions—the condition of self and soul in illiberal times—skewering pieties with a deliciously rapier wit, daring us to imagine more intellectually honest ways of encountering the world."
—Laura Kipnis, author of Men: Notes from an Ongoing Investigation
"It is a lucky break to share the culture with William Deresiewicz, because he knows it so deeply and he illuminates it so well. He has an uncommon gift for keeping his head in the clouds and his feet on the ground at the same time, so that his criticism is both principled and shrewd. He is precisely what a real humanist in America looks like now."
—Leon Wieseltier

Praise for William Deresiewicz
"[Deresiewicz] is a striker, to put it in soccer terms. He's a vivid writer, a literary critic whose headers tend to land in the back corner of the net."
—Dwight Garner in the New York Times
"Deresiewicz has spent his career as a sort of Henry Adams figure, passionately invested in learning rather than in formal education, character rather than persona."
—Hua Hsu in the New Yorker