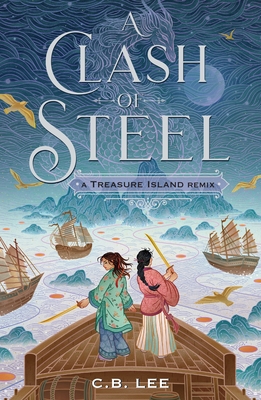 A Clash of Steel: A Treasure Island Remix (Remixed Classics #1)
Publication Date:
September 6th, 2022
Usually Ships in 1 to 5 Days
Description
In the Remixed Classics series, authors from marginalized backgrounds reinterpret classic works through their own cultural lens to subvert the overwhelming cishet, white, and male canon. Two intrepid queer girls of color embark on a legendary treasure hunt in this YA remix of Treasure Island, flipping the script on a notoriously Euro-centric sausage-fest of a classic.

1826. The sun is setting on the golden age of piracy, and the legendary Dragon Fleet, the scourge of the South China Sea, is no more. Its ruthless leader, a woman known only as the Head of the Dragon, is now only a story, like the ones Xiang has grown up with all her life. She desperately wants to prove her worth, especially to her mother, a shrewd businesswoman who never seems to have enough time for Xiang. Her father is also only a story, dead at sea before Xiang was born. Her single memento of him is a pendant she always wears, a simple but plain piece of gold jewelry.
But the pendant's true nature is revealed when a mysterious girl named Anh steals it, only to return it to Xiang in exchange for her help in decoding the tiny map scroll hidden inside. The revelation that Xiang's father sailed with the Dragon Fleet and tucked away this secret changes everything. Rumor has it that the legendary Head of the Dragon had one last treasure—the plunder of a thousand ports—that for decades has only been a myth, a fool's journey.
Xiang is convinced this map could lead to the fabled treasure. Captivated with the thrill of adventure, she joins Anh and her motley crew off in pursuit of the island. But the girls soon find that the sea—and especially those who sail it—are far more dangerous than the legends led them to believe.
Praise for A Clash of Steel:

"Vividly realized and brimming with romantic adventure. Rooted in the legend of Chinese pirate queen Ching Shih, C.B. Lee's A Clash of Steel is richly imagined and thrilling to the end." —Malinda Lo, bestselling author of Last Night at the Telegraph Club
"Lavishly drawn and studded with jewels from the original, C.B. Lee has written a remix that delves deep into questions of family, love, and treasure. This is a book I wish I'd had as a young, queer teen and it deserves a spot in any collection." —Natalie C. Parker, author of the Seafire trilogy
"A Clash of Steel is an action-packed tale of fierce friendship and queer found family, with a playful sapphic romance that will make your heart flutter! ... A truly extraordinary retelling that artfully blends the classic story of Treasure Island with the history of most infamous pirate ever to rule the seas." —Julia Ember, author of Ruinsong
Praise for A Clash of Steel: A Treasure Island Remix (Remixed Classics #1)
Praise for A Clash of Steel:
A Cosmopolitan Best YA Book of 2021
"Lee (the Sidekick Squad series) elegantly situates Robert Louis Stevenson's 1882 Treasure Island against a richly embroidered Qing dynasty backdrop in this carefully crafted queer interpretation. ... Inspired by female pirate Zheng Yi Sao, this deeply immersive adventure features deftly interwoven Chinese and Vietnamese, luscious culinary descriptions, and well-rendered explorations of imperialism, treasure, found family, and love." —Publishers Weekly, starred review

"'Fun' doesn't even begin to describe this rich and imaginative retelling of Treasure Island. ... It's obvious that this book was a labor of love, which made it all the more enjoyable to read. Pirate stories don't get much better than this." —Hypable
"In this work inspired by but also completely unique from Treasure Island, Lee introduces readers to an enthralling adventure story filled with twists and turns. ... The well-researched narrative with vivid descriptions of food, clothing, and markets of the era will transport readers. A great addition to all libraries." —School Library Journal
"Vividly realized and brimming with romantic adventure. Rooted in the legend of Chinese pirate queen Ching Shih, C.B. Lee's A Clash of Steel is richly imagined and thrilling to the end." —Malinda Lo, bestselling author of Last Night at the Telegraph Club
"Lavishly drawn and studded with jewels from the original, C.B. Lee has written a remix that delves deep into questions of family, love, and treasure. This is a book I wish I'd had as a young, queer teen and it deserves a spot in any collection." —Natalie C. Parker, author of the Seafire trilogy
"A Clash of Steel is an action-packed tale of fierce friendship and queer found family, with a playful sapphic romance that will make your heart flutter! C.B. Lee immerses you in the world of the Qing dynasty with vivid and authentic detail—you will feel the danger of the waves and yearn for the tastes and smells of the markets. Filled with shocking twists, A Clash of Steel is a truly extraordinary retelling that artfully blends the classic story of Treasure Island with the history of most infamous pirate ever to rule the seas." —Julia Ember, author of Ruinsong
"C.B. Lee has masterfully (and, it feels, effortlessly!) elevated a familiar classic. A Clash of Steel is not merely a retelling, but a more than worthy installment to the literary canon itself. From two incredible heroines and their found family (that literally brought tears to my eyes from how much I loved them), to sweeping adventure and gripping stakes, every element is wielded to its best effect in a way that I am sure will linger in readers' minds long after they've left Anh and Xiang's world." —Karuna Riazi, author of The Gauntlet

Praise for the Sidekick Squad series:
"Lee delivers YET AGAIN with another SIDEKICK full of heart, guts, and all the queerness you could wish for." —E.K. Johnston, #1 New York Times-bestselling author, on Not Your Backup

"With realistic (and supportive!) relationships anchoring the narrative, Lee crafts a well-paced story of self discovery, brimming with effortless inclusivity and thrilling dose of heroic adventure." —Claire Kann, author of Let's Talk About Love, on Not Your Backup
"Not Your Sidekick, Not Your Villain, and Not Your Backup are entertaining and propulsive novels written with confidence, charm, and cheek. C.B. Lee gets not only how to elevate superhero tropes but how to write teenagers in an honest and compelling way. Everything from the worldbuilding to the plots to the character development are firing on all cylinders." —Alex Brown, Tor.com
"Jess and Abby are delightful characters and superhero fans like this reviewer will especially enjoy Lee's take on how superpowers work. I'm ready for the sequel!" —RT Book Reviews, on Not Your Sidekick
"Lee offers up a fast-paced, engaging tale set in a quasi-dystopian 22nd-century America where the line between hero and villain is often blurred. With a diverse cast of characters, both in terms of sexuality and ethnic background, and a wholly adorable romance for Jess, it s a lively exploration of morality in a superpowered age." —Publishers Weekly, on Not Your Sidekick