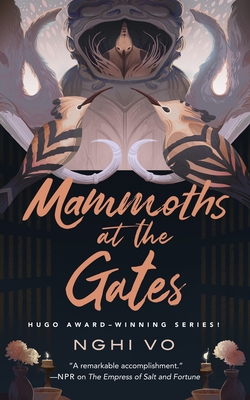 Mammoths at the Gates (The Singing Hills Cycle #4)
Publication Date:
September 12th, 2023
The MIT Press Bookstore
1 on hand, as of Nov 30 10:32am
(SCIFI)
On Our Shelves Now
Description
The Crawford and Hugo Award-Winning Series
Shortlisted for the Lambda Literary Award, the Locus Award, the Ignyte Award; One of Book Riot's Best Fantasy Debuts of All Time; A Powell's Best of 2023 Pick

"Both tear-jerking and gut-punching. . . . Entirely accessible on its own, it is an excellent place to start if you haven't read any of Vo's novellas yet."—The Washington Post
The wandering Cleric Chih returns home to the Singing Hills Abbey for the first time in almost three years, to be met with both joy and sorrow. Their mentor, Cleric Thien, has died, and rests among the archivists and storytellers of the storied abbey. But not everyone is prepared to leave them to their rest.
Because Cleric Thien was once the patriarch of Coh clan of Northern Bell Pass--and now their granddaughters have arrived on the backs of royal mammoths, demanding their grandfather's body for burial. Chih must somehow balance honoring their mentor's chosen life while keeping the sisters from the north from storming the gates and destroying the history the clerics have worked so hard to preserve.
But as Chih and their neixin Almost Brilliant navigate the looming crisis, Myriad Virtues, Cleric Thien's own beloved hoopoe companion, grieves her loss as only a being with perfect memory can, and her sorrow may be more powerful than anyone could anticipate. . .
"A remarkable accomplishment of storytelling."—NPR on The Empress of Salt and Fortune
"Nghi Vo is one of the most original writers we have today."—Taylor Jenkins Reid on Siren Queen

The Hugo Award-winning Singing Hills Cycle
The Empress of Salt and Fortune
When the Tiger Came Down the Mountain
Into the Riverlands
Mammoths at the Gates
The Brides of High Hill

The novellas of The Singing Hills Cycle are linked by the cleric Chih, but may be read in any order, with each story serving as an entrypoint.
Praise for Mammoths at the Gates (The Singing Hills Cycle #4)
Hugo Award-winning Series | Crawford Award-winning Series | Locus Award-finalist Series | Ignyte Award-nominated Series
"This fourth entry in the "Singing Hills Cycle" series, after Into the Riverlands, is every bit as beautiful and thought-provoking as its predecessors. Highly recommended for fans of the previous books in the series and for anyone who loves their fantasy colored with myth, legend, and bittersweet truth."—Library Journal, starred view
"Both tear-jerking and gut-punching. . . . Entirely accessible on its own, it is an excellent place to start if you haven't read any of Vo's novellas yet."—The Washington Post
"Hugo Award winner Vo's lovely standalone fourth Singing Hills Cycle fantasy is the most personal adventure yet for travelling Cleric Chih. . . . This timeless story of grief and growth is sure to resonate."—Publishers Weekly
"[T]he novella is short but meaty, with rich language and small details and stories that flesh it out into feeling much longer than it is. It's a quick, satisfying read."—Booklist
"With its themes of friendship, loyalty, continuity, and loss, [Mammoths at the Gates's] main strengths derive from an appealing cast of characters, some of whom, like Chih, have grown more complex over the four volumes of the series. . . . Adds considerable emotional resonance to an already impressive series."—Locus
"This moving novella handles different methods of grieving with care and love. Not everyone is remembered the same by the living, and it is a beautiful reminder of how loved ones live on through memory and story."—Powell's, Best of 2023
"This brief fable explores love, grief, guilt, atonement, memory and transformation. In spite of the deep wounds various characters carry and the serious nature of the themes, this is a gentle tale. . . . I enjoyed it—I think you will too."—FantasyLiterature
"An exceptional fantasy novella."—Milwaukee Journal Sentinel
Praise for the Singing Hills Cycle
"A delicious bonbon of a novella about stories and their unreliable narrators, who wink at their listeners (or readers), fully expecting us to catch on."—The Wall Street Journal
"Dangerous, subtle, unexpected and familiar, angry and ferocious and hopeful. . . . A remarkable accomplishment of storytelling."—NPR
"Spellbinding. . . . Vo expertly weaves myths and histories of this fantastical land throughout, while also offering readers a deeper understanding of Chih themself, a character who may have been left as a framing device in lesser hands. The result is a pitch-perfect series installment."—Publishers Weekly, (starred review)
"Rides the knife edge between telling a story and being in the middle of it and explores how tales become legends. . . . Highly recommended for . . . anyone who likes high fantasy inspired by Imperial China or wuxia movies and stories."—Library Journal (starred review)
"Vo's debut has it all: from sapphic love to cruel betrayals; from political intrigue to lakes that glow red to ghosts that continue to walk old paths."—Booklist, starred review
"A stunning feminist fantasy."—Publishers Weekly, starred review
"Gorgeous. Cruel. Perfect."—Seanan McGuire
"So good I want to marry it."—Martha Wells
"A quiet, wrenching tale of resistance, resilience, and court intrigue."—R. F. Kuang
"A stunning gem . . . celebrates the wonder of queer love. I could read about Chih recording tales forever."—Samantha Shannon
"A glorious, beautifully-written tale that is both tragic and triumphant, unfolding a secret history through the ordinary artifacts of everyday life."—Kate Elliott
"An epic in miniature, beautifully realised."—Zen Cho
"At once epic and intimate, this story of revenge, power and the weight of history is a small, masterful jewel."—Aliette de Bodard
"Resides in the intimate margins of its (beautifully imagined) world's history, portraying how the marginalized may yet shape those narratives and harness the power of stories."—Indra Das
"Uncovers a nuanced history of how the disenfranchised shape history, and can come to rule it, though at great cost."—Buzzfeed
"A thrilling, wuxia-style addition to the series."—BuzzFeed News
"A masterpiece of understatement and implication. . . it gives the impression of effortlessness while being quietly meticulous in every stitch."—Nerd Daily
"[A] gorgeous debut novella."—Paste
"Rich details and emotional prose captures readers from the first page of this imaginative and powerful novella. "—Library Journal
"Those familiar with the Singing Hills Cycle know by now to expect marvelous little novellas like perfectly cut jewels, dense with facets and brilliance. Into the Riverlands, Nghi Vo's third installment, is of course no different….buy this book, because you'll want to revisit these particular stories again and again."—Geekly, Inc
"The novella is written in Vo's rich, lovely language, and it's nice to have such a wonderful fantasy series be totally accessible in standalone volumes. . . . Fans of folklore-inspired fantasy will eat this one up."—Booklist
"Continues the magical, mythical and memorable adventures of Chih . . . . The series . . . can be read in any order—and you don't want to miss them!"—Ms. Magazine
"This is a beautiful, cozy, fantasy tale. . . . gentle, soothing, whimsical, feminist."—Fantasy Book Critic
"Novelist Nghi Vo has a fantastic gift for creating sweeping epics that weave together history and myth."—Arlington Magazine