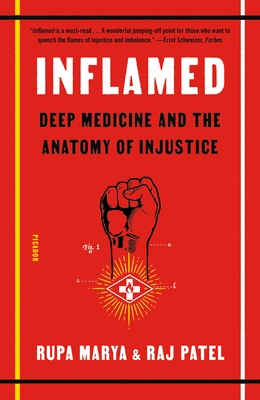 Inflamed: Deep Medicine and the Anatomy of Injustice
Publication Date:
August 2nd, 2022
The MIT Press Bookstore
1 on hand, as of Dec 8 10:45am
(BIOMD)
On Our Shelves Now
Description
Raj Patel, the New York Times bestselling author of The Value of Nothing, teams up with physician, activist, and co-founder of the Do No Harm Coalition Rupa Marya to reveal the links between health and structural injustices--and to offer a new deep medicine that can heal our bodies and our world.
The Covid pandemic and the shocking racial disparities in its impact. The surge in inflammatory illnesses such as gastrointestinal disorders and asthma. Mass uprisings around the world in response to systemic racism and violence. Rising numbers of climate refugees. Our bodies, societies, and planet are inflamed.
Boldly original, Inflamed takes us on a medical tour through the human body—our digestive, endocrine, circulatory, respiratory, reproductive, immune, and nervous systems. Unlike a traditional anatomy book, this groundbreaking work illuminates the hidden relationships between our biological systems and the profound injustices of our political and economic systems. Inflammation is connected to the food we eat, the air we breathe, and the diversity of the microbes living inside us, which regulate everything from our brain's development to our immune system's functioning. It's connected to the number of traumatic events we experienced as children and to the traumas endured by our ancestors. It's connected not only to access to health care but to the very models of health that physicians practice.
Raj Patel, the renowned political economist and New York Times bestselling author of The Value of Nothing, teams up with the physician Rupa Marya to offer a radical new cure: the deep medicine of decolonization. Decolonizing heals what has been divided, reestablishing our relationships with the Earth and one another. Combining the latest scientific research and scholarship on globalization with the stories of Marya's work with patients in marginalized communities, activist passion, and the wisdom of Indigenous groups, Inflamed points the way toward a deep medicine that has the potential to heal not only our bodies, but the world.
Praise for Inflamed: Deep Medicine and the Anatomy of Injustice
"A work of exhilarating scope and relevance to this infected moment in the body politic. Inflamed mixes medicine, argument, and metaphor into a post-pandemic poultice: reading it is the first step in the deep medicine it prescribes. What a rare and powerful experience to feel a book in your very body."
—Naomi Klein, author of On Fire: The (Burning) Case for a Green New Deal
"Inflamed is a must-read, and not just for food system workers, medical practitioners or policy makers. It is rare that a book can bind such a variety of information into a cohesive, readable and highly relevant narrative. Inflamed is a wonderful jumping-off point for those who want to quench the flames of injustice and imbalance. And it is a field manual to guide us in avoiding the thought processes and practices that got us into this mess in the first place."
—Forbes
"Inflamed is structured as a political anatomy, a new and illuminating approach to diagnosis that identifies the root causes of our pathologies, both in our bodies and in the world around us. Marya and Patel describe in compelling detail the links between bodily processes and larger historical, economic, and political conditions through a tour of the immune, circulatory, digestive, respiratory, reproductive, endocrine, and nervous systems . . . A revolutionary book that calls for courageous action to dismantle those structures that harm the health of people and the planet and to rebuild ones that center care."
—Aletha Maybank, The Lancet
"Inflammation is both the metaphor and the stated subject of this ambitious interdisciplinary tome co-written by Patel, a journalist and activist, and Marya, a physician and composer. Together they map the connections between public health, social injustice, economic disparities, climate change, and ancestral trauma, making the case that our crappy world needs a new medical paradigm."
—Molly Young, Vulture
"A sweeping global survey . . . Required reading . . . Inflamed's rich portrait of the anatomy of injustice should be assigned to every pre-med, medical, and nursing student."
—Wendy Johnson, The Boston Review
"Most social justice movements have recognized that the health of oppressed people is worse than the health of those in power. This well-written, compelling book expands on that idea with the concept of 'deep medicine,' which looks at health disparities brought on by colonialism, politics, and capitalism . . . An excellent book for anyone concerned with health, community, or the environment. The accessible writing will draw readers in."
—Margaret Henderson, Library Journal (starred review)
"Science and medicine are often treated as fields that are subtracted from social movements, separate from the struggle for power that billions of human beings are embroiled in and abstracted from the material conditions around us. Luckily for us, Rupa Marya and Raj Patel are out here making these connections and encouraging us to see these as processes we all must take ownership of as we fight to have control of our surroundings. This book is on fire."
—Boots Riley, frontperson for The Coup and writer/director of "Sorry to Bother You"
"A critique of the wreckage of capitalism and colonialism for our time--beautifully written, storytelling at its best. This book can change your life."
—Roxanne Dunbar-Ortiz, author of An Indigenous Peoples' History of the United States
"At once empathetic and skeptical of power, [Inflamed] is bold and searching in its examination of the ways in which the human body has exhibited the consequences of a specific economic and political system . . . 'Settler ideologies have circumscribed the imagination,' they write. The future is creative work."
—Sarah Jones, The Nation
"Inspired by the work of Frantz Fanon and Michel Foucault, among others, the authors examine the 'myriad ways' systemic injustice impacts mind and body under the stress of eugenics, exposure to various kinds of trauma, and medical dehumanization. This is a powerful, knowledgeable, and important work about the dangerous connection between health and societal injustices and how it can be resolved."
—starred review, Booklist
"Inflamed is utterly fascinating, and beyond that, spiritually potent. At times, it feels almost visionary. In these pages, as in our world, everything is connected. For readers seeking promise and meaning while struggling to survive through the COVID-19 pandemic, our environment's rapidly intensifying collapse, and the plagues of systemic racism and global inequality, this book offers a wise and welcome interpretation. It argues that the web of life can be restored, and that harmony, and collective liberation, is possible."
—Texas Observer
"At last! A book about medicine and healthcare that is holistic in the broadest sense in that it integrates histories of colonialism, conflict and inequality with alternative forms of knowledge. And all that while remaining compellingly readable and engaging."
—Amitav Ghosh, author of Jungle Nama
"Physician Marya, cofounder of the Do No Harm Coalition, and University of Texas research professor Patel (The Value of Nothing) examine the social and environmental causes of ill health in this thought-provoking treatise . . . a persuasive argument for the need to address the systemic problems that plague people's minds and bodies."
—Publishers Weekly
"A passionate exploration of world poverty, racism, injustice, and colonialism that draws a parallel to inflammation. . . thought-provoking, knowledgeable, and ripe for debate and further study."
—Kirkus Reviews
"This gracefully intertextual book spans many realms of knowledge—infectious disease, abolitionist thought, short-sighted colonial cosmologies, immunology, the function of debt—to offer an explanation for the surge of inflammatory illnesses across the world . . . the book reconceptualizes inflammation as the result of wide-ranging injustices, which the colonized medical system has long overlooked . . . An important read, Inflamed calls for deep medicine, and a refiguring of our body as existing in a world that continually shapes us, for better and worse."
—Greta Moran, Civil Eats
"The title makes clear that our current practice of medicine, one that was largely developed in tandem with colonialism, can and will be improved by considering the human experience as a whole, reconnecting to our histories and communities, 'uncovering a path to a future where health in its broadest terms might be possible.'"
—The Observer
"The book explores one area of our lives that has been subject to colonization: that of medicine. The authors provide both a practical and metaphorical exploration of the impacts of colonization through the idea of inflammation - inflamed bodies, an inflamed society, and an inflamed planet. Their insights help us to dismantle colonization in our institutions and in our minds while building new connections and ways of being through what the authors call 'deep medicine'."
—Upstream