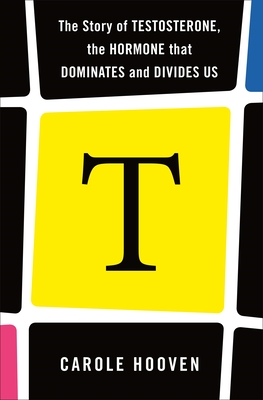 T: The Story of Testosterone, the Hormone that Dominates and Divides Us
Publication Date:
July 5th, 2022
Publisher:
Holt Paperbacks
The MIT Press Bookstore
1 on hand, as of Nov 30 10:32am
(SS:GS)
On Our Shelves Now
Description
Through riveting personal stories and the latest research, Harvard evolutionary biologist Carole Hooven shows how testosterone drives the behavior of the sexes apart and how understanding the science behind this hormone is empowering for all.
Since antiquity—from the eunuchs in the royal courts of ancient China to the booming market for "elixirs of youth" in nineteenth-century Europe—humans have understood that typically masculine behavior depends on testicles, the main source of testosterone in males. Which sex has the highest rates of physical violence, hunger for status, and desire for a high number of sex partners? Just follow the testosterone.
Although we humans can study and reflect on our own behavior, we are also animals, the products of millions of years of evolution. Fascinating research on creatures from chimpanzees to spiny lizards shows how high testosterone helps males out-reproduce their competitors. And men are no exception.
While most people agree that sex differences in human behavior exist, they disagree about the reasons. But the science is clear: testosterone is a potent force in human society, driving the bodies and behavior of the sexes apart. But, as Hooven shows in T, it does so in concert with genes and culture to produce a vast variety of male and female behavior. And, crucially, the fact that many sex differences are grounded in biology provides no support for restrictive gender norms or patriarchal values. In understanding testosterone, we better understand ourselves and one another—and how we might build a fairer, safer society.
Praise for T: The Story of Testosterone, the Hormone that Dominates and Divides Us
Featured in The Wall Street Journal's "10 Books to Read: The Best Reviews of July"
The Times (UK)'s Best Books of 2021
Bloomberg Opinion's 15 Best Nonfiction Books of 2021
"[C]lear-eyed, crisply written...[T] entertains as it educates...[and Hooven] circles back to her own story, speaking to us intimately, casting her intellectual journey in a luminous chiaroscuro...Her book confronts ugly truths about male behavior, but also seeks to reintroduce nuance into our discourse by enlarging our grasp of the biological processes shaped by testosterone. T is a gorgeous culmination of an odyssey both professional and personal."
—The Wall Street Journal

"Hooven makes a compelling case that T is a powerful influence on our bodies and brains…As the final chapter of [T] argues, it's hard to make a start on…social improvements if we don't fully understand why things are the way they are. Clear-eyed books like this, which mercifully avoid culture-war partisanship, are a great start on that particular quest."
—The Times of London

"[A] clear, accessible, and accurate review of major themes in the human testosterone literature…thought-provoking and informative."
—Evolution, Medicine, and Public Health
"One of the most compelling books on human behavior I've ever read, T is a scientific mystery story told with insight, intelligence, and panache."
—Daniel Gilbert, Edgar Pierce Professor of Psychology at Harvard University and author of the New York Times bestseller Stumbling on Happiness
"Hooven's review of what testosterone does and does not do is science-writing at its best: intriguing, personal, bold, persuasive, and most importantly, transparent. Her gripping account will fascinate, whether you're a teenager in the throes of puberty or are just curious about the nature of sex and gender—one of the most important debates of our time."
—Richard Wrangham, author of The Goodness Paradox
"With all the talk about testosterone in sex, sports, and politics, we need a good explanation of the science and its implications, and this one is outstanding."
—Steven Pinker, Johnstone Family Professor of Psychology at Harvard University and author of How the Mind Works and Enlightenment Now
"Filled with fascinating—often astounding—insights, T takes us on a journey from the discovery of this powerful hormone, to its effects throughout the animal kingdom, to a crucial understanding of how it shapes human minds, bodies, and behavior. Hooven is a compelling and compassionate guide, and T is a book we need now."
—Emily Yoffe, journalist and former "Dear Prudence" at Slate
"T is the story of the most famous, most misunderstood, and most maligned chemical in our bodies: testosterone. A fascinating, brave, and brilliant book—the best I've read on the topic."
—Steve Stewart-Williams, author of The Ape that Understood the Universe
"A superb and engaging book that delivers the unfiltered truth about testosterone, sex and sex differences, told with clarity and compassion. T conveys a deep understanding about the hidden power of testosterone in our lives, but also teaches us how scientific knowledge exposes harmful misconceptions and helps us become more humane."
—Daniel E. Lieberman, author of Exercised: Why Something We Never Evolved to Do is Healthy and Rewarding
"With wit, warmth, and a touch of motherly love, Hooven lucidly lays out a formidable scientific case for how and why the sexes are different. Boldly confronting contemporary gender issues, T speaks directly to why getting human nature right matters for making the world a better place."
—Joe Henrich, professor of human evolutionary biology at Harvard University and author of The WEIRDest People in the World and The Secret of Our Success
"Dr. Carole Hooven has written the definitive book on testosterone…[which] examines testosterone from every possible angle…If we can educate ourselves about 'T,' according to Hooven, then the unfiltered truth about the impact of testosterone and the differences between the sexes will add to our knowledge-base and help us create a better society."
—Evening Standard
"We need to be more accepting...Human beings are slow to learn, and it takes us a long time for us to adopt all this information and adapt...We need more examples like you. You're raw, and you're open, and you're confident enough to be vulnerable...It was a great conversation. I've never cried more."
—Joe Rogan, The Joe Rogan Experience
"Truly one of the most remarkable and fascinating books that I've come across in a long time…Carole is that rare scientist who is able to take sometimes complicated and technical information and make it all understandable."
—Danielle Crittenden, The Femsplainers Podcast
"This is a smart, balanced, interesting, humane, and rigorous book that pulls no punches. It helps us understand better the relations between men and women, homosexuality, transgenderism—all aspects of our lives."
—Andrew Sullivan, The Weekly Dish
"It's a good narrative, not just an academic book, but I like that you get into the nitty gritty of the science."
—Razib Khan, Unsupervised Learning
"[T]imely and intriguing…[T investigates] the ancient question of nature vs. nurture, and Hooven walks a fine line between the two…popular science likely to excite academic debate on sex and gender."
—Kirkus Reviews
"Hooven separates testosterone fact from fiction in her comprehensive debut…[S]he takes readers to high-tech labs and on a day of 'chimping' in Uganda's Kibale forest—and her writing is refreshingly free of jargon. The result is an approachable introduction to an often misunderstood aspect of human biology."
—Publishers Weekly

"[Hooven] deftly details the tremendous impact of testosterone…[and t]he complex interplay between genes, hormones, social environment, and experience makes us who we are…Hooven effectively counters erroneous or misleading assertions about testosterone, a hormone so culturally familiar to most of us that it's frequently designated by a single letter."
—Booklist

"[Hooven's] insight into evolutionary biology and human behavior will be valuable not only to scientists but to anyone interested in social change…A provocative, academic, accessible look at the science behind human behavior."
—Library Journal

"Employing evolutionary biology, endocrinology, and good storytelling, Hooven lays out how testosterone works, why it works as it does it, and what the consequences are...Where a careful reading and understanding of the best evidence leads, Hooven follows."
—Philosophy Blog

"Hooven makes her case for the importance of T with a humility, humor, and grace not often seen in our cultural battles these days."
—Stephen L. Carter, Bloomberg Opinion
"Carole Hooven, an evolutionary biologist at Harvard, explains for the general reader the effects of this hormone in making us male or female, in triggering puberty, and in relation to sexual behaviors both heterosexual and homosexual…[M]easured and thoughtful."
—Longview News-Journal
"[A] vivid study."
—Nature

"Testosterone (T) is the hormone we love to hate, and recently there's been a lot of hate…Thankfully, relevant experts have stepped up to the plate to right many of those wrongs, including Carole Hooven."
—Reason Magazine
"I can recommend Carole's book—it's great."
—Jim Davies, Minding the Brain