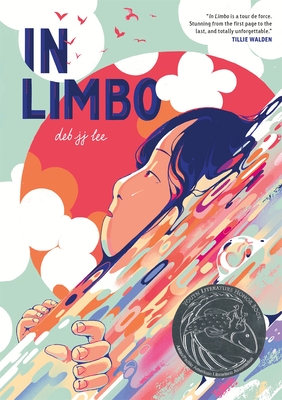 In Limbo
Publication Date:
March 7th, 2023
The MIT Press Bookstore
1 on hand, as of Nov 30 10:32am
(JR:GN)
On Our Shelves Now
Description
A debut YA graphic memoir about a Korean-American girl's coming-of-age story—and a coming home story—set between a New Jersey suburb and Seoul, South Korea.
Ever since Deborah (Jung-Jin) Lee emigrated from South Korea to the United States, she's felt her otherness.
For a while, her English wasn't perfect. Her teachers can't pronounce her Korean name. Her face and her eyes—especially her eyes—feel wrong.
In high school, everything gets harder. Friendships change and end, she falls behind in classes, and fights with her mom escalate. Caught in limbo, with nowhere safe to go, Deb finds her mental health plummeting, resulting in a suicide attempt.
But Deb is resilient and slowly heals with the help of art and self-care, guiding her to a deeper understanding of her heritage and herself.
This stunning debut graphic memoir features page after page of gorgeous, evocative art, perfect for Tillie Walden fans. It's a cross section of the Korean-American diaspora and mental health, a moving and powerful read in the vein of Hey, Kiddo and The Best We Could Do.
Praise for In Limbo
A Junior Library Guild selection
A School Library Journal Best Book of the Year
A NYPL 2023 Best Book for Young Adult - Top Ten Book
A 2024 Texas Library Association TAYSHAS Reading List Pick

★ "[B]reathtakingly meticulous panels in grayish blues and white [elevate this] work to masterpiece status." —Booklist, starred review
★ "Readers seeking realistic depictions of lived teen mental health experiences will find this beautiful work rewarding." —School Library Journal, starred review
"A raw, relatable memoir exploring mental health and immigrant experiences." —Kirkus
"An emotionally tender, viscerally illustrated look at one teenager's struggles with identity and mental health." —Publisher's Weekly
"Lee's artistic skill is undeniable, and the subtle stylistic changes add depth to both visual and emotional impact of the narrative." —Bulletin of the Center for Children's Books
"Lee deftly chronicles their tumultuous high school years through elegant cartooning, presenting a difficult story with sincerity, compassion, and grace." —Hornbook

"In Limbo is a tour de force. Stunning from the first page to the last, and totally unforgettable. Upon getting to the end, I wanted to go right back to the beginning to read it again." —Tillie Walden, creator of Are You Listening?
"Deborah Lee is a masterful storyteller who reminds us everyone we meet is an entire world while we are plunged into her own. I clutched my heart as hard as I clutched the pages of In Limbo." —Sara Alfageeh, illustrator of Squire
"Deb Lee's beautifully delicate gray landscapes are a fitting backdrop for this coming-of-age tale that encompasses so many of the liminal spaces of life: between cultures, past and future, childhood and independence." —Harmony Becker, creator of Himawari House
"With breathtaking art and poignant storytelling, In Limbo is a masterpiece in expressing one's truth as a queer Asian American." —Laura Gao, creator of Messy Roots
"Deb JJ Lee's In Limbo is a stunning study in mood and detail. Her poetic black-and-white illustrations bring you into her world as a lonely high school student, struggling to communicate with her parents and few friends about her frustrations with fitting in as a Korean-born immigrant." —Malaka Gharib, creator of It Won't Always Be Like This
"What a gorgeous meditation on adolescence. Reading this memoir reminded me of watching a molted dragonfly unfurling its delicate wings and triumphantly taking its first flight." —Robin Ha, creator of Almost American Girl
"A gorgeous and vital coming-of-age story full of raw, diasporic feeling. Lee's writing breaks your heart even while her stunning ink washes soothe your soul." —Kiku Hughes, creator of Displacement
"While the challenges faced in her story are starkly serious, the virtuosity with which Lee shuffles together evocative images is unapologetically joyful." —R. Kikuo Johnson, creator of No One Else
"Deb JJ Lee's In Limbo is spectacular in its synthesis of visual storytelling and gripping tone; a coming-of-age story with truth and heart. It takes the reader to the places where breathing is hard; where I know my own breath was absolutely taken away by this incredible comic." —Molly Mendoza, creator of Skip
"In Limbo lifts the comic memoir to new heights. At once heartrending and triumphant, with sumptuous artwork, this story will take your breath away." —Rebecca Mock, illustrator of Salt Magic
"In Limbo disarms you with its lushness and draws you close with its empathy and honesty. Teenagers (and those of us who once were teenagers) are so lucky to have authors like Deb who reach back through the veil of time to offer understanding and compassion to our lowest lows, to the people who have hurt us and the people we've hurt in return." —Rosemary Valero-O'Connell, illustrator of Laura Dean Keeps Breaking Up with Me
"It's a beautiful excavation of the most difficult parts of growing up." —Trung Le Capecchi-Nguyen, creator of The Magic Fish
"Deborah Lee's memoir stuns with its inky dreamlike illustrations and gut punch of emotion. In Limbo is a masterpiece, a tale of the real highs and lows of growing up." —Victoria Ying, creator of Hungry Ghost
"A stunningly rendered, emotionally raw memoir encompassing all the best and worst of one's teen self. A must-read for high schoolers." —Wendy Xu, author of Mooncakes
"An achingly beautiful and masterfully lyrical work of art by an illustrator at the top of both their creative and technical form. Deb Lee takes the illustrated memoir to intimately personal heights and complex, sublime depths. Lee's visual language is breathtaking, unlike anything I've seen before. I feel changed by this deeply moving work." —Jonny Sun, New York Times–bestselling author and illustrator of Goodbye, again and everyone's a aliebn when ur a aliebn too
"In Limbo feels like it tells life as it is, cutting through the stillness and silence between people, without pulling any punches, without varnish, and yet all beautifully observant. It reminded me of many things from my own life, especially early artistic struggle and uncertainty, and issues of Asian displacement and self-image. I'm sure other readers will respond to this deeply; it may well even save a few lives (especially the ones you never hear about) seeing their own feelings so well illuminated." —Shaun Tan, creator of The Arrival