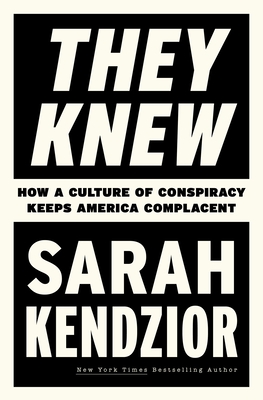 They Knew: How a Culture of Conspiracy Keeps America Complacent
Publication Date:
September 13th, 2022
Publisher:
Flatiron Books
The MIT Press Bookstore
1 on hand, as of Nov 30 10:32am
(SS)
On Our Shelves Now
Description
FINALIST FOR THE LOS ANGELES TIMES BOOK PRIZE
"Every sentence delivered. The pathos of truth-seeking left me thinking of Herman Melville."
—Timothy Snyder, #1 New York Times bestselling author of On Tyranny
NEW YORK TIMES BESTSELLING author Sarah Kendzior delves into the difference between conspiracy and conspiracy theory, "deftly separat[ing] fact from fiction in a conspiracy-addled nation" (VANITY FAIR).

Conspiracy theories are on the rise because officials refuse to enforce accountability for real conspiracies. Uncritical faith in broken institutions is as dangerous as false narratives peddled by propagandists.
The truth may hurt—but the lies will kill us.
They Knew discusses conspiracy culture in a rapidly declining United States struggling with corruption, climate change, and other crises. As the actions of the powerful remain shrouded in mystery—"From Norman Baker to Jeffrey Epstein, Iran-Contra to January 6" (VF)—it is unsurprising that people turn to conspiracy theories to fill the informational void. They Knew exposes the tactics these powerful actors use to placate an inquisitive public.
Here, for the first time, Kendzior blends her signature whip-smart prose and eviscerating arguments with lyrical and intimate examinations of the times and places that haunt American history. "America is a ghost story," writes Kendzior, as she unearths decades of buried history, providing an essential and critical look at how to rebuild our democracy by confronting the political lies and crimes that have shaped us.
Praise for They Knew: How a Culture of Conspiracy Keeps America Complacent
"[They Knew] is good medicine. Sarah Kendzior is not looking to entertain anyone here — the stakes are too high. And no spoonful of sugar to help it all go down — straight no chaser, blunt, to the point, looking straight at it."
—John Cusack
"I am hurtling through They Knew with a wonderful mix of admiration, writerly envy, and the deep satisfaction that comes with realizing that there are good, brilliant people out there still fighting the good fight… It's such a relief to hear someone point out the obvious in such a clear, confident, unarguable way."
—Sebastian Junger, New York Times bestselling author of The Perfect Storm

"They Knew is a must read. Sarah Kendzior is like the Joan Didion of Missouri."
—Rachel Dodes, coauthor of The Memo

"An extraordinarily insightful explanation of what history will remember as our era of insanity. In a year of a lot of great books this one is outstanding. She is a brilliant writer. It's both catharsis and vicarious vent! Essential."
—Stevie Van Zandt

"From Norman Baker to Jeffrey Epstein, Iran-Contra to January 6, Sarah Kendzior's forthcoming book, THEY KNEW, deftly separates fact from fiction in a conspiracy-addled nation."
—Vanity Fair
"The pathos of truth-seeking left me thinking of Herman Melville. I can't remember the last time I read a book where every sentence delivered."
—Timothy Snyder
"The book convenes a crucial conversation about the distinction between conspiracies and conspiracy theories — and how each term plays out in our common life....If "They Knew" was a concept album, it would unite multiple musical genres."
—Chicago Tribune
"An eye-opening look at the forces behind those attempting to undermine democracy, create political division and protect the criminal and political elite from prosecution and responsibility. You will walk away with a greater understanding of how D.C. really works, and along with informing you, it may also scare you a little."
—Town & Style
"Her writing raises points worth discussing and dissecting, in ways that can make readers stop and think and come up with conclusions that may make sense — but aren't always easy to accept."
—St-Louis Post Dispatch
"Kendzior chooses her examples of embedded crime with the skill of a brain surgeon – attempting a reverse lobotomy on a mostly comatose nation."
—Wall Street on Parade
"Deftly dissects the tangled truths behind the conspiracies that intertwine American and international politics, business, and criminality with a style reminiscent of Ronan Farrow's Catch and Kill or Bob Woodward's recent books ... Kendzior's compelling and urgent prose will speak to readers who are working to make sense of the current political and social landscapes."
—Booklist

"A sharp dissection of a culture of lies, secrets, and conspiracies—including 'the original conspiracy theory: American exceptionalism' .... A provocative, pointed challenge to all Americans to dig harder for the truth."
—Kirkus Reviews

"Eye-opening... Kendzior's deep dives into recent scandals are illuminating"
—Publishers Weekly

"A detailed look into both the appeal of conspiracy theories and the effects that they can have on society writ large."
—InsideHook, "The 10 Books You Should Be Reading This September"
"Enormously powerful, clear-headed and convincing."
—The Straight Dope
Praise for Hiding in Plain Sight
"This fucking rocks."
—Tori Amos
"Flat out fantastic."
—Don Winslow
"I recommend it, especially if you have any doubt about what's at stake in this year's presidential election."
—Connie Schultz, Pulitzer Prize-winning columnist and author of forthcoming novel The Daughters of Erietown
"Sarah Kendzior, in her brilliant new book, is one of the few journalists who grasps what is happening."
—David Cay Johnston, New York Times bestselling author of It's Even Worse Than You Think and Pulitzer-Prize winning journalist
"An amazing book about our current political situation and how we got here."
—Peter Gallagher
"It's brilliant and also terrifying. You can't look away."
—Alex George, author of The Paris Hours
"[Hiding in Plain Sight] outlines how Trump's rise coincided with what [Kendzior] believes is the degradation of the American political system and the continual erosion of civil liberties in the country by foreign powers, revealing just how fragile American democracy is right now."
—International Business Times, Top 10 Best Books About Donald Trump in 2020
"A chilling account of how the media, government, and public have failed to hold Trump accountable, and how this has significantly impacted U.S. democracy."
—Library Journal Review
"Hiding in Plain Sight isn't just about Trump, but about how crumbling democracies intent on rolling back the freedoms of its citizens create perfect conditions for the rise of dangerous autocrats."
—Bitch Magazine, 2020 Nonfiction Preview
"Dazzling"
—The Chicago Daily Herald
"Impeccably researched...This comprehensive, page-turning account presents a stark and uncompromising indictment of the Trump presidency as the culmination of a 'decades-long erosion of American stability, integrity, and democracy." —Publishers Weekly
"If you only read one journalistic account of Donald Trump's America make sure it is Sarah Kendzior's Hiding in Plain Sight."
—The Socialist Review
"A scathing indictment of Donald Trump...Kendzior offers fresh views based on her experiences living in the declining economy of the Midwest and on observations as an academic researcher studying dictatorships in the former Soviet Union..... A passionate call for immediate action against the 'transnational crime syndicate' that has supplanted the U.S. government."
—Kirkus
"Her highly readable and well-documented new narrative explains the development of an elite criminal network in America, how digital media has shaped repression and protest, and how globalization has allowed the proliferation of organized crime."
—National Review of Books
"Sarah Kendzior brings her unique perspective to bear in her engaging new book."
—The Arts Fuse
"This is about our country. Irrelevant of whether you consider yourself to be on the right or the left.... Sarah has blown the whistle. The rich have gotten richer, the government has been stripped and the powerful are ever more so. You want to believe someone is on your page. That there's someone to listen to, to inspire you... That's Sarah Kendzior."
—Bob Lefsetz, The Lefsetz Letter
"An elegantly written, unforgiving, trenchant bit of political analysis."
—Inside HigherEd
"Sarah Kendzior's Hiding in Plain Sight should be required reading prior to the 2020 election. It shows the decline of American politics into the corruption that inhabits the Oval Office today.... By giving us a clear eyed view of what we're up against, Sarah Kendzior has given us cause to continue the fight."
—PrimmLife
Praise for The View from Flyover Country
A New York Times Bestseller
An NPR Best Book of the Year 2018
"Both prescient and honest...seeing the roots of the arguments that now dominate cable news is both fascinating and a little bit haunting in retrospect." —NPR
"Kendzior's prose is sharp and consistent whether the essay is data dense or an opinion piece. She maneuvers through big issues with a pace and clarity that makes unpalatable topics fascinating, and unfortunately, relatable." — Hyperallergic
"The defining journalistic account of Trump's America does complain, but it isn't best-selling gossip fodder like Michael Wolff's Fire and Fury or James Comey's A Higher Loyalty. It's the book from the Midwestern journalist who barely mentions the president's name."
—Record-Eagle
"Sharply written pieces about life and inequality in middle America."
—Milwaukee Journal-Sentinel, 85 Books for Summer Reading
An academic, Midwesterner and firebrand, Kendzior crafts work that looks unflinchingly at what ails the country." —Shelf Awareness, starred review
"It's a call to arms, highlighting the struggles of disenfranchised, overworked, and underpaid Americans, and urging our elected officials to recognize and address the inequalities that have become even more pronounced since when she originally wrote the essays." —The Village Voice
"The View From Flyover Country is well worth reading....Here is a thoughtful critic who knows how to sound the alarm." —The Arts Fuse
"Kendzior's essays bring to light social injustice and economic inequality in Middle America from a voice that lives there." —Medium
"The talented Kendzior…writes intelligently and with great empathy about problems faced by the Midwest." —New York Post
"Kendzior's writing, while often concise and clever like this, is just as often backed by statistics, attributions or an illustrative profile…Though her message is alarming, it is softened with compassion." —St. Louis Post-Dispatch
"An astonishment and a challenge to convention for all sorts of reasons…[One of the] books devoted to where we really were not very long ago, where we are now and where we might well be going. They don't mess around. They play rough. But then the truth almost always does." —Buffalo News
"From Russia to flyover country, Sarah Kendzior might be the voice we need." —Columbia Journalism Review
"Hers is a crystalline voice of reason and appraisal in a world that shifts further into unrecognizable territory minute-by-minute." — Carol Haggas, Booklist
"A collection of sharp-edged, humanistic pieces about the American heartland...Passionate pieces that repeatedly assail the inability of many to empathize and to humanize." — Kirkus
"Urgent and beautifully expressed . . . What makes Kendzior's writing so truly important [is that] it documents where the problem lies, by somebody who lives there. Read her." —THE WIRE
"Kendzior is no psychic. She's just whip-smart and an expert on authoritarian governments. She's also that rare writer with an analyst's brain and an empath's heart… Though the essays are topical and political…one senses they'll stand the test of time, just for the beauty of the prose and the soundness of the philosophy." —STEFENE RUSSELL, ST. LOUIS MAGAZINE