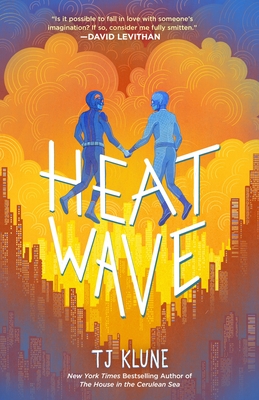 Heat Wave (The Extraordinaries #3)
Publication Date:
July 19th, 2022
The MIT Press Bookstore
2 on hand, as of Nov 30 10:32am
(JR:YA)
On Our Shelves Now
Description
The explosive finale to the Extraordinaries trilogy by New York Times bestselling author TJ Klune!
School's out for the summer and a raging, malevolent heat has blanketed Nova City. Dark, twisted, probably evil shadows have drenched the doorsteps of her good people's homes. And Nicholas Bell—fanboy, hero, ADHD-haver—is being super dramatic again.
But honestly, Nick's life is pretty much perfect. Yeah, it's hot out, but he finally gets to team up and train with his steamy superhero boyfriend to bring justice, protection, and disaster energy to the people of Nova City. It's everything he's ever dreamed of!
With graduation on the horizon and his future unknowable, Nick focuses on enjoying the present. Seth, Jazz, and Gibby are busy setting up headquarters for Lighthouse, their hero team. Nick's dad has partnered with former chief of police Rodney Caplan to start a new private investigation agency. And Nick's mother, the superhero known as TK, is right there at Nick's side. Where she's always been.
Hasn't she?
But something's off. It's not just Simon Burke running for mayor and campaigning to "cure" Extraordinaries. And it's not even the rumors that Nick's ex-boyfriend and villain-in-the-making Owen Burke has escaped.
Something else isn't right, and Nick will need all his friends and loved ones together to
uncover the truth before Nova City falls prey to the Burke family.
A truth that will reveal a traitor in their midst and burn through their lives like a wildfire.
Praise for The Extraordinaries
An Indie Bestseller!
An Indie Next Pick!
A Gold Nautilus Book Award Winner!
"Half a love-letter to fandom, half self-aware satire, and wholly lovable. I haven't read anything quite like this before!" —Sophie Gonzales, author of Only Mostly Devastated
"The most down-to-earth book about superheroes I've ever read. I laughed, I cried, and I had a smile on my face the entire time I was reading it." —Mason Deaver, bestselling author of I Wish You All the Best
Praise for Heat Wave (The Extraordinaries #3)
"Is it possible to fall in love with someone's imagination? If so, consider me fully smitten. TJ Klune creates worlds where fear and threat can be conquered by kindness, and a tender, queer heart is more valuable than any weapon or power." —David Levithan
"Truly, Heat Wave is a bittersweet book in the best way. It's incredibly hard to say goodbye to this lively, fantastic group of characters, yes, but they get the hopeful, inspiring ending they've fought hard for and absolutely deserve.With Klune's trademark concoction of heart and hilarity, Heat Wave is the explosive, absurd and ingenious conclusion to the Extraordinaries trilogy. With loads of fluff, secondhand embarrassment, and a whole lot of platonic and romantic love, Heat Wave will give its characters the emotional, uplifting ending they (and the readers) deserve." —The Nerd Daily
"The last installment of the Extraordinaries trilogy is everything a devoted fan could want.... This book is jammed with plot twists, making it a real page-turner. Klune also doesn't shy away from incorporating real-life events into his story.... A touching, utterly satisfying conclusion." —Kirkus Reviews
Praise for The Extraordinaries
An Indie Bestseller!
An Indie Next Pick!
A Gold Nautilus Book Award Winner!
"Uproariously funny, this razor-sharp book is half a love-letter to fandom, half self-aware satire, and wholly lovable. I haven't read anything quite like this before!" —Sophie Gonzales, author of Only Mostly Devastated
"The most down-to-earth book about superheroes I've ever read. I laughed, I cried, and I had a smile on my face the entire time I was reading it" —Mason Deaver, bestselling author of I Wish You All the Best
"Klune plays with superhero genre tropes and fan-fiction clichés with the skill of a true fan—completely aware of their ridiculousness but in love with them anyway. Hilarious, sweet, and absolutely super!" —Kirkus Reviews
"TJ Klune is doing powerful work that inspires and impresses. He is a gift to our troubled times, and his novels are a radiant treat to all who discover them." —Locus
"If you're looking for a book to read and then reread several times before the next Spider-Man movie releases, this will be perfect." —Buzzfeed
"Klune's deliberate use of traditional comic book themes, such as masking one's identity, mirror common struggles faced by neurodiverse and LGBTQIAP+ youth; this thoughtful approach urges readers to embrace their true selves." —Shelf Awareness, starred review
"Part superhero homage, part sigh-worthy romance, part action-packed adventure, this novel is all kinds of comical fun... plenty of genuine laugh-out-loud moments." —Bulletin Center for Children's Books
"Just what teens who devour the CW's DC shows and Marvel's cinematic universe films need to tide them over as they await new seasons of superhero television." —BookPage
"Klune's romp is irresistibly readable…. Readers will be delighted!" —Booklist
"Nick's ADHD and almost comical optimism combine to make a charming and entertaining hero[.] There's plenty in this lighthearted, superhero-interested teen dramedy for kids who feel like they're sometimes on the outside, including the positive representation of a teen with ADHD." —Publishers Weekly
"Klune takes cues from Peter Milligan's classic queer comic Enigma, with an Everyman bewildered by the superhero story that seems to revolve around him. Hand to teens involved in fandom, writers of fan fiction, lovers of superhero stories, and queer romance readers." —School Library Journal
For Flash Fire
"Flash Fire is a perfect sequel...Klune beautifully blends romance, action, coming-of-age, and real-world issues, all grounded in a protagonist that feels as real as your best friend." —Lauren Shippen, author of The Infinite Noise
"This sequel to the superhero tale The Extraordinaries (2020) is jam-packed with action, nefarious plots, romance, and puns....Spending more time with these characters is an absolute delight; the love they share and readily profess for each other, both platonic and romantic, is beautiful to witness. Another extraordinary installment." —Kirkus Reviews
"With Klune's trademark humour, new Extraordinary characters and the ultimate squad goals personified in Nick's gang of queer besties, Flash Fire is an explosive, non-stop, plot-twisty extravaganza—the sequel that's not to be missed this summer!" —The Nerd Daily
"The author establishes meaningful, complicated relationships and melds them with fast-paced suspenseful action scenes that will surely captivate fans of classic superhero fiction and convert newbies. This entertaining contemporary fantasy weaves sweet queer high school relationships and suspenseful superhero action." —Shelf Awareness, Starred Review
"Smoothly written and fast paced, with engaging characters and a sweet spirit, Flash Fire is an agreeable diversion, enhanced by the promise of a third installment." —Booklist