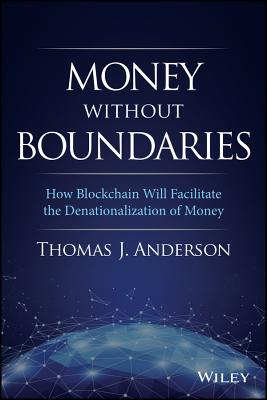 Money Without Boundaries: How Blockchain Will Facilitate the Denationalization of Money
Publication Date:
August 27th, 2019
The MIT Press Bookstore
1 on hand, as of Dec 7 10:28am
(BUSIN)
On Our Shelves Now
Description
Discover how blockchain will facilitate a new currency that will transcend space and time
Largely inspired by The Denationalization of Money by Fredrich Hayek, Money Without Boundaries' ideological foundation is also inspired by economists and thought leaders like Milton Friedman and Irving Fisher, advancements in capital markets over the past 50 years, and the convergence of old and new technologies. Author Thomas J. Anderson explains how blockchain acts as the filter and the glue, making it all possible.
Compared with other currencies, blockchain-managed money markets are more straightforward and transparent. It is easier to monitor, understand, and assess the quality of their "full-faith and credit." Money Without Boundaries shows how not only money, but also the process of borrowing and lending, will evolve to be conducted in a 100% trusted, secure, transparent, open architecture environment. Anderson begins with a history of money and discusses the rise of cryptocurrency, concluding with a comparison of decentralized money markets to all other alternatives.
Money without Boundaries:
- Demonstrates how blockchain technology allows full transparency
- Explains how blockchain makes it possible for money to be fully commoditized
- Explains how this fully market-based, decentralized, self-regulating system has vast implications throughout the global financial system
- Shows how everyone will benefit when they have the opportunity to compete on "full faith in credit"
If you are interested in cryptocurrency, money, monetary theory, or understanding how the applied uses of blockchain technology will change your everyday life, this is essential reading.
About the Author
THOMAS J. ANDERSON is the founder and chairman of both Anasova and Supernova Lending. Before he founded Supernova, Tom worked in investment banking and wealth management for Wells Fargo, Deutsche Bank, Merrill Lynch, and Morgan Stanley, where he served as executive director of Morgan Stanley Wealth Management. He is a New York Times bestselling author and acclaimed financial planning expert. Tom's books have been featured in numerous media outlets around the world.