Preorder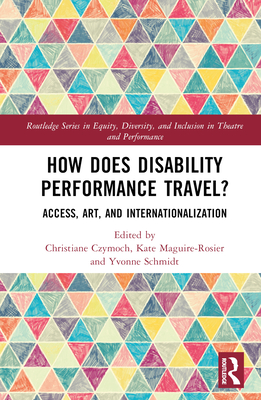 How Does Disability Performance Travel?: Access, Art, and Internationalization (Routledge Equity)
This product is not returnable.
Publication Date:
December 12th, 2023
Description
This edited collection investigates the myriad ways in which disability performance travels in a globalized world.
Disability arts festivals are growing in different parts of the world; theatre and dance companies with disabled artists are increasingly touring and collaborating with international partners. At the same time, theatre spaces are often not accessible, and the necessity of mobility excludes some disabled artists from being part of an international disability arts community. How does disability performance travel, who does not travel - and why? What is the role of funding and producing structures, disability arts festivals, and networks around the world? How do the logics of international (co-)producing govern the way in which disability art is represented internationally? Who is excluded from being part of a touring theatre or dance company, and how can festivals, conferences, and other agents of a growing disability culture create other forms of participation, which are not limited to physical co-presence?
This study will contextualize disability aesthetics, arts, media, and culture in a global frame, yet firmly rooted in its smaller national, state and local community settings and will be of great interest to students and scholars in the field.