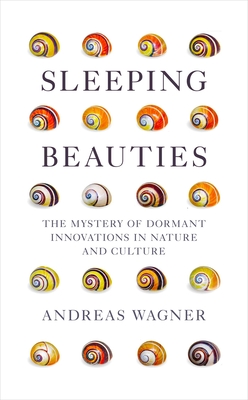 Sleeping Beauties: The Mystery of Dormant Innovations in Nature and Culture
Publication Date:
May 9th, 2023
Publisher:
Oneworld Publications
The MIT Press Bookstore
2 on hand, as of Nov 30 10:32am
(NATUR)
On Our Shelves Now
Description
Why do some of nature's marvels have to wait millions of years for their time in the sun?
Life innovates constantly, producing perfectly adapted species – but there's a catch.
Many animals and plants eke out seemingly unremarkable lives. Passive, constrained, modest, threatened. Then, in a blink of evolutionary time, they flourish spectacularly. Once we start to look, these 'sleeping beauties' crop up everywhere. But why?
Looking at the book of life, from apex predators to keystone crops, and informed by his own cutting-edge experiments, renowned scientist Andreas Wagner demonstrates that innovations can come frequently and cheaply to nature, well before they are needed. We have found prehistoric bacteria that harbour the remarkable ability to fight off 21st-century antibiotics. And human history fits the pattern too, as life-changing technologies are invented only to be forgotten, languishing in the shadows before they finally take off.
In probing the mysteries of these sleeping beauties, Wagner reveals a crucial part of nature's rich and strange tapestry.
Praise for Sleeping Beauties: The Mystery of Dormant Innovations in Nature and Culture
'Hopeful and fascinating.'
— The Times
'Sleeping Beauties is a delightful, accessible and information-packed primer on evolutionary biology, taking the reader from the complex details of DNA and proteins to some of humanity's most intriguing successes and failures. Andreas Wagner explains the emergence of many otherwise puzzling traits and species—and also sheds important new light on the mechanics of evolution itself.'
— Wall Street Journal
'A fascinating argument, told in an engaging and clear style, that reminds us just how creative evolution can be.'
— New Scientist
'Wagner offers a provocative new picture of how context underlies the success of nature's best inventions, across the tree of life and in society… poetic… Sleeping Beauties is a book of many triumphs. But the most useful of its many messages may be how Wagner equips the reader with a grammar for describing the sleeping beauties in our own lives.'
— Nature
'What Darwin didn't say, and Andreas Wagner, a professor of evolutionary biology at the University of Zurich, tells us, is that it can take a long time – millions of years – before a mutation actually becomes relevant to the survival of the organism… Perhaps the book's most important message is that the idea of a singular genius creating world-changing inventions out of nothing is a false one.'
— Irish Times
'[An] excellent study… The accessible prose ensures even excursions into molecular biology are comprehensible, and Wagner finds surprising depth in evolutionary history... This is the rare volume that general readers will enjoy as much as specialists.'
— Publishers Weekly, starred review
'Accessible and compelling... [Sleeping Beauties is] a fascinating perspective on dormancy's abundant and critical role in evolutionary innovation.'
— Booklist
'Wagner's emphasis on the fundamental serendipity of success resonates for scientists, humanists, and artists alike. If the fifty-part human hand can prove so versatile, "what about a brain with nearly a hundred billion neurons? What other skills lie dormant within, skills we have not even dreamed of?"'
— Santa Fe Institute
'Thought provoking… Wagner explains these issues well and taps into the wider stream of thought that nature has repeatedly come up with the same innovations across many different types of flora and fauna. Two thirds of the book is devoted to how this has played out in nature, and this aspect is argued well and clearly presented.'
— Irish Tech News