Discounted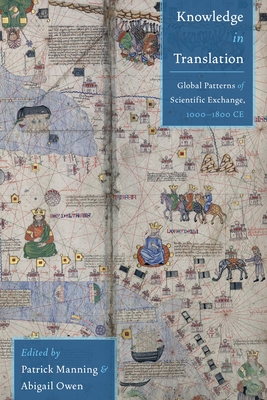 Knowledge in Translation: Global Patterns of Scientific Exchange, 1000-1800 CE
Previous price:

$60.00
Current price:

$55.00
Publication Date:
October 23rd, 2018
Publisher:
University of Pittsburgh Press
The MIT Press Bookstore
1 on hand, as of Dec 8 10:45am
(GS)
On Our Shelves Now
Description
In the second millennium CE, long before English became the language of science, the act of translation was crucial for understanding and disseminating knowledge and information across linguistic and geographic boundaries. This volume considers the complexities of knowledge exchange through the practice of translation over the course of a millennium, across fields of knowledge—cartography, health and medicine, material construction, astronomy—and a wide geographical range, from Eurasia to Africa and the Americas. Contributors literate in Arabic, Catalan, Chinese, Greek, Hebrew, Italian, Japanese, Latin, Minnan, Ottoman, and Persian explore the history of science in the context of world and global history, investigating global patterns and implications in a multilingual and increasingly interconnected world. Chapters reveal cosmopolitan networks of shared practice and knowledge about the natural world from 1000 to 1800 CE, emphasizing both evolving scientific exchange and the emergence of innovative science. By unraveling the role of translation in cross-cultural communication, Knowledge in Translation highlights key moments of transmission, insight, and critical interpretation across linguistic and faith communities. 
 
Praise for Knowledge in Translation: Global Patterns of Scientific Exchange, 1000-1800 CE
"The editors of this volume have embarked on a very novel approach to one of the most fascinating periods of human history, 1000–1800 CE. By bringing together profound research on diverse topics that cross cultures, languages, and systems of faith in the Euro-Asian region—and by framing the history of science within the scope of global history—Knowledge in Translation succeeds in abolishing borders of all kinds." —George Saliba, Columbia University
 
"Knowledge in Translation is a remarkable collection of essays that highlights the multidirectional and polycentric nature of the transfer of scientific knowledge around the globe, with an expansive chronology that incorporates medieval as well as early modern exchanges across communities. This book thus examines knowledge and practices that crossed boundaries, and does so itself." —Merry E. Wiesner-Hanks, Editor, Journal of Global History
 
"This wide-ranging volume makes clear that the transfer of scientific knowledge and the global implications of scientific investigation are a crucial aspect of world and global history." —J. Werner, Bentley School
"By editing these three volumes, Patrick Manning, Abigail Owen, Daniel Rood, and Mat Savelli have done the discipline a huge service. All three volumes are essential reading for historians of science regardless of their specialization, and they reveal the marked importance of the history of science for understanding global developments in the past millennium." —Isis