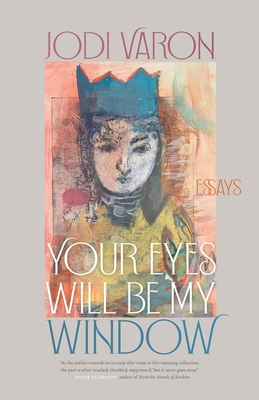 Your Eyes Will Be My Window: Essays (Crux: The Georgia Literary Nonfiction)
Publication Date:
September 1st, 2023
Publisher:
University of Georgia Press
Usually Ships in 1 to 5 Days
Description
Your Eyes Will Be My Window reclaims the two erasures of Esta Plat. Murdered in Ukraine by Nazi troops in 1942, evidence of the life of Esta Plat was preserved in a bundle of her letters until the letters were tossed into a dumpster and destroyed. Haunted by the inheritance of survivor's guilt and shame in a family that kept no Old World keepsakes except her grandmother's one-sentence memory of Esta Plat, Jodi Varonis compelled to sift through records of Europe's genocidal past.
Pitting grandiose Holocaust memorials against the act of bearing witness, Varon confronts the limitations of history, folklore, archival data, and survivor testimonies. Seeking solace in ritual, she challenges her upbringing as an outlier Jew in the Rocky Mountain West to provide a window to the meaning of cultural displacement in immigrant communities. When an ethnic German woman's corpse was discarded across from Varon's rented flat in Baden-W rttemberg, the homemade memorial for Nadine E. prompts a meditation on violence against women and girls as a weapon of suppression and war. The record of unfiltered emotions among Kindertransport survivors in Europe, journalists in Ludwigsburg, and archivists and guides in Jerusalem, Your Eyes Will Be My Window is a defiant exercise in honoring the lost.