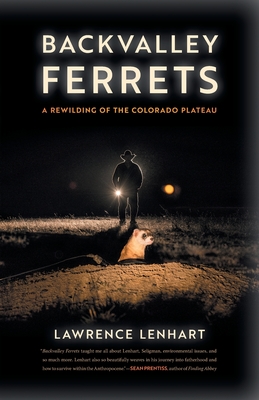 Backvalley Ferrets: A Rewilding of the Colorado Plateau (Crux: The Georgia Literary Nonfiction)
Publication Date:
June 15th, 2023
Publisher:
University of Georgia Press
Usually Ships in 1 to 5 Days
Description
Twice declared extinct, North America's most endangered mammal species, the black-footed ferret (BFF), is making a comeback thanks to an evolving conservation regimen at more than thirty reintroduction sites across the continent. Lawrence Lenhart lingers at one such site in his proverbial backyard, the Aubrey Valley in northern Arizona. He clocks hundreds of hours behind the wheel, rolling over ranch ruts as he shines a spotlight over dusky sage steppe in the hopes of catching a fleck of emerald eyeshine.
The beguiling weasel at the center of this book is more than a charismatic minifauna; it is the covert ambassador of a critical ecosystem that has dwindled to 1 percent of its former size. In a landscape menaced by habitat fragmentation, bacterial plague, settler colonialism, and soil death, a ferret must be resilient. Lenhart investigates the human efforts to sustain the species through monitoring, vaccination, captive breeding, and even cloning.
Lenhart balances this lens of environmental witness with personal essaying that captures the parallel story of his wife's pregnancy as he realizes the ferret's conservation story is dramatically synchronized with her trimesters. In preparing to raise a child in the Anthropocene, Lenhart takes stock of his own ecosystem and finds something is amiss. Through an ethic of "deeper ecology," Lenhart must hone his ecological interest in the black-footed ferret to assure it isn't overshadowed by his own paternal interests.