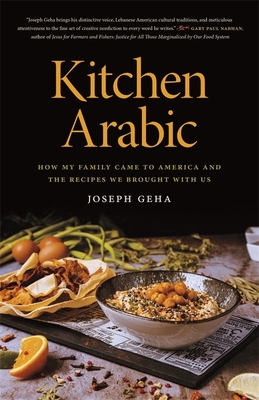 Kitchen Arabic: How My Family Came to America and the Recipes We Brought with Us (Crux: The Georgia Literary Nonfiction)
Publication Date:
March 15th, 2023
Publisher:
University of Georgia Press
Usually Ships in 1 to 5 Days
Description
Immigrant children first speak the language of their mothers, and in Toledo, Ohio's Little Syria neighborhood where Joseph Geha grew up, the first place he would go to find his mother would be the kitchen. Many of today's immigrants use Skype to keep in touch with folks back in the old country but in those "radio days" of old before the luxuries of hot running water or freezers, much less refrigeration, blenders, or microwaves, the kitchen was where an immigrant mother usually had to be, snapping peas or rolling grape leaves while she waited for the dough to rise. There, Geha's mother took special pride in the traditional Syro-Lebanese food she cooked, such as stuffed eggplant, lentil soup, kibbeh with tahini sauce, shish barak, and fragrant sesame cookies.
As much a memoir as a cookbook, Kitchen Arabic illustrates the journey of Geha's early years in America and his family's struggle to learn the language and ways of a new world. A compilation of family recipes and of the stories that came with them, it deftly blends culture with cuisine. In her kitchen, Geha's mother took special pride in the Arabic dishes she cooked, cherishing that aspect of her heritage that, unlike language, has changed very little over time and distance. With this book, Geha shares how the food of his heritage sustained his family throughout that cultural journey, speaking to them--in a language that needs no translation--of joy and comfort and love.