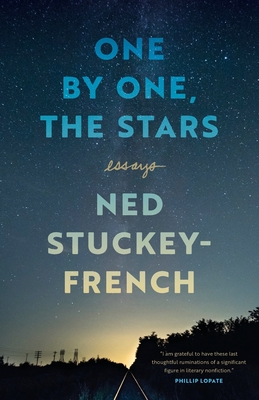 One by One, the Stars: Essays (Crux: The Georgia Literary Nonfiction)
Publication Date:
May 1st, 2022
Publisher:
University of Georgia Press
Usually Ships in 1 to 5 Days
Description
A tireless and discerning advocate for contemporary practitioners of creative nonfiction, Ned Stuckey-French was at the center of every national discussion about the genre. He greatly contributed to our scholarly understanding of the history of the essay and was working on his first essay collection when he died of cancer in 2019.
That collection, One by One, the Stars, presents new, highly personal essays tracing Stuckey-French's childhood in Indiana and a burgeoning interest, during adolescence, in politics and social justice to his life as a father, teacher, and writer. Thematic threads connect these elements, and foremost is his growing commitment to activism on behalf of the disadvantaged, overlooked, or threatened. The volume also features some of Stuckey-French's "greatest hits" as a public scholar and writer, including "Don't Be Cruel: An Argument for Elvis," "Our Queer Little Hybrid Thing: Toward a Definition of the Essay," and his popular essay on his Facebook addiction--for which he was widely known.
Along the way, his stories and reflections offer fascinating and timely insights into family dynamics, history, politics, ecology, social justice, and literature. All of it is infused with Ned Stuckey-French's guiding spirit, full of curiosity, compassion, and conviction.