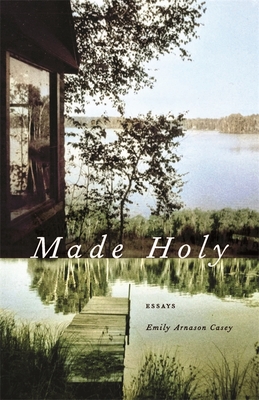 Made Holy: Essays (Crux: The Georgia Literary Nonfiction)
Publication Date:
September 1st, 2019
Publisher:
University of Georgia Press
Usually Ships in 1 to 5 Days
Description
In haunting prose that will follow you for days to come, Made Holy tells the story of the American family. Love, loss, and addiction entwine in this moving debut collection. Emily Arnason Casey employs the lyric imagination to probe memory and the ever-shifting lens of time as she seeks to make sense of the disease that haunts her maternal family tree and the alchemy of loss and longing.
The lakes of her childhood in Minnesota form the interior landscape of this book, a kind of watery nostalgia for something just beyond her reach. "I know this feeling," she writes. "We travel along the surface of time and then suddenly the layers give way and we are in another year, another body, another place."
Casey's willingness to honestly examine the past and present with contemplative lyricism offers fresh perspective and new understanding. In electric moments that are utterly relatable, she weaves a tale of love and commitment to the truth of her experience despite the incredible desire to keep alive a legacy of secrets. Like the mullein plant she invokes in the final essay, these essays form a kind of "guardian to the lost."