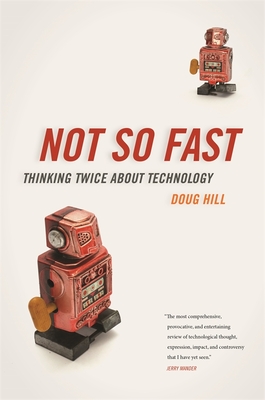 Not So Fast: Thinking Twice about Technology
Publication Date:
April 1st, 2019
Publisher:
University of Georgia Press
The MIT Press Bookstore
1 on hand, as of Nov 30 10:32am
(DIGST)
On Our Shelves Now
Description
There's a well-known story about an older fish who swims by two younger fish and asks, "How's the water?" The younger fish are puzzled. "What's water?" they ask.
Many of us today might ask a similar question: What's technology? Technology defines the world we live in, yet we're so immersed in it, so encompassed by it, that we mostly take it for granted. Seldom, if ever, do we stop to ask what technology is. Failing to ask that question, we fail to perceive all the ways it might be shaping us.
Usually when we hear the word "technology," we automatically think of digital devices and their myriad applications. As revolutionary as smartphones, online shopping, and social networks may seem, however, they fit into long-standing, deeply entrenched patterns of technological thought as well as practice. Generations of skeptics have questioned how well served we are by those patterns of thought and practice, even as generations of enthusiasts have promised that the latest innovations will deliver us, soon, to Paradise. We're not there yet, but the cyber utopians of Silicon Valley keep telling us it's right around the corner.
What is technology, and how is it shaping us? In search of answers to those crucial questions, Not So Fast draws on the insights of dozens of scholars and artists who have thought deeply about the meanings of machines. The book explores such dynamics as technological drift, technological momentum, technological disequilibrium, and technological autonomy to help us understand the interconnected, interwoven, and interdependent phenomena of our technological world. In the course of that exploration, Doug Hill poses penetrating questions of his own, among them: Do we have as much control over our machines as we think? And who can we rely on to guide the technological forces that will determine the future of the planet?
About the Author
DOUG HILL is a journalist and independent scholar who has studied the history and philosophy of technology for more than twenty-five years. His work has appeared in numerous national publications, including the New York Times, the Boston Globe, the Atlantic, Salon, Forbes, Esquire, and the blog "The Question Concerning Technology." He is coauthor of the bestseller Saturday Night: A Backstage History of Saturday Night Live and lives in Pasadena.