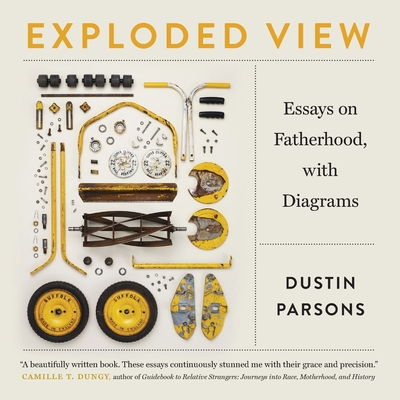 Exploded View: Essays on Fatherhood, with Diagrams (Crux: The Georgia Literary Nonfiction)
Publication Date:
March 15th, 2018
Publisher:
University of Georgia Press
Usually Ships in 1 to 5 Days
Description
In Exploded View "graphic" essays play with the conventions of telling a life story and with how illustration and text work together in print. As with a graphic novel, the story is not only in the text but also in how that text interacts with the images that accompany it.
Diagrams were an important part of Dustin Parsons's childhood. Parsons's father was an oilfield mechanic, and in his spare time he was also a woodworker, an automotive mechanic, a welder, and an artist. His shop had countless manuals with "exploded view" parts directories that the young Parsons flipped through constantly. Whether rebuilding a transmission, putting together a diesel engine, or assembling a baby cradle, his father had a visual guide to help him. In these essays, Parsons uses the same approach to understanding his father as he navigates the world of raising two young biracial boys.
This memoir distinguishes itself from others in its "graphic" elements--the appropriated diagrams, instructions, and "exploded view" inventory images--that Parsons has used. They help guide the reader's understanding of the piece, giving them a visual anchor for the story, and add a technical aspect to the lyric essays that they hold. This mixture of the machine-like and the lyrical helps the reader understand the author's world more fully--a world where art comes in the form of a welding torch, where creativity involves finding new ways to use old machines, and where delineating between right-brain and left-brain thinking isn't so easy.