Discounted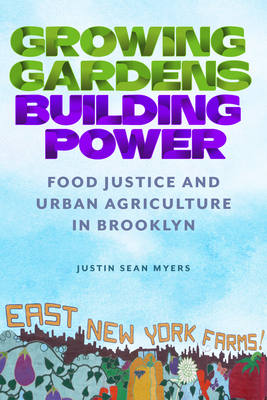 Growing Gardens, Building Power: Food Justice and Urban Agriculture in Brooklyn (Nature, Society, and Culture)
Previous price:

$35.95
Current price:

$32.95
Publication Date:
October 14th, 2022
Publisher:
Rutgers University Press
Special Order - Subject to Availability
Description
Across the United States marginalized communities are organizing to address social, economic, and environmental inequities through building community food systems rooted in the principles of social justice.  But how exactly are communities doing this work, why are residents tackling these issues through food, what are their successes, and what barriers are they encountering?  This book dives into the heart of the food justice movement through an exploration of East New York Farms! (ENYF!), one of the oldest food justice organizations in Brooklyn, and one that emerged from a bottom-up asset-oriented development model.  It details the food inequities the community faces and what produced them, how and why residents mobilized to turn vacant land into community gardens, and the struggles the organization has encountered as they worked to feed residents through urban farms and farmers markets.  This book also discusses how through the politics of food justice, ENYF! has challenged the growth-oriented development politics of City Hall, opposed the neoliberalization of food politics, navigated the funding constraints of philanthropy and the welfare state, and opposed the entrance of a Walmart into their community.  Through telling this story, Growing Gardens, Building Power offers insights into how the food justice movement is challenging the major structures and institutions that seek to curtail the transformative power of the food justice movement and its efforts to build a more just and sustainable world.
 
Praise for Growing Gardens, Building Power: Food Justice and Urban Agriculture in Brooklyn (Nature, Society, and Culture)
"Growing Gardens, Building Power does a thorough job of engaging and explaining many of the most current debates in food justice activism, and the issues that make such activism necessary. The scholarship is excellent; Myers has a gift for storytelling."
— Alison Alkon
"Growing Gardens, Building Power is truly the first book to put the extensive historical analysis of structural problems —redlining, disinvestment, housing discrimination— together with food justice issues. This will be a book that will change minds." 
— E. Melanie DuPuis
"In Growing Gardens, Building Power, Professor Justin Sean Myers delves into the origins of food inequity and the politics of food justice. To do so, he follows East New York Farms! (ENYF!) as they fight to deliver food justice to marginalized communities in Brooklyn, New York. Myers touches on the inequalities residents face, the potential of community gardens, and the challenges ENYF! has overcome."
— Julia Agostino