Discounted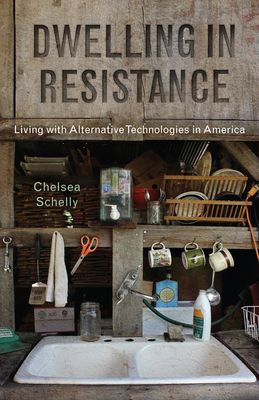 Dwelling in Resistance: Living with Alternative Technologies in America (Nature, Society, and Culture)
Previous price:

$38.95
Current price:

$35.95
Publication Date:
August 2nd, 2017
Publisher:
Rutgers University Press
Usually Ships in 1 to 5 Days
Description
Most Americans take for granted much of what is materially involved in the daily rituals of dwelling. In Dwelling in Resistance, Chelsea Schelly examines four alternative U.S. communities—"The Farm," "Twin Oaks," "Dancing Rabbit," and "Earthships"—where electricity, water, heat, waste, food, and transportation practices differ markedly from those of the vast majority of Americans.
 
Schelly portrays a wide range of residential living alternatives utilizing renewable, small-scale, de-centralized technologies. These technologies considerably change how individuals and communities interact with the material world, their natural environment, and one another. Using in depth interviews and compelling ethnographic observations, the book offers an insightful look at different communities' practices and principles and their successful endeavors in sustainability and self-sufficiency.
 
Praise for Dwelling in Resistance: Living with Alternative Technologies in America (Nature, Society, and Culture)
"Dwelling in Resistance accomplishes the difficult task of being extremely informative and intellectual while at the same time remaining down to earth, lively, and amusing. Schelly provides a welcome addition to the literature on social practices, technology studies, and community studies in this engaging work."
— Debbie Kasper
"This theoretically and empirically rich book illuminates technological systems that are often invisible, yet fundamentally shape everyday practices and ideas. In showing us how people live with alternative technologies, Schelly also generates deep insights into those who do not."
— John M. Meyer
New Books Network interview with Chelsea Schelly
— New Books Network