Discounted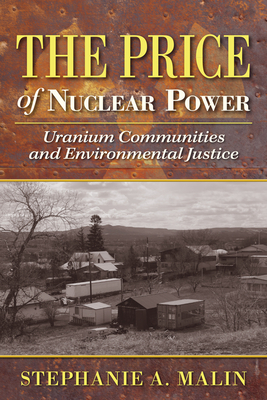 The Price of Nuclear Power: Uranium Communities and Environmental Justice (Nature, Society, and Culture)
Previous price:

$150.00
Current price:

$125.00
Publication Date:
May 21st, 2015
Publisher:
Rutgers University Press
Usually Ships in 1 to 5 Days
Description
Rising fossil fuel prices and concerns about greenhouse gas emissions are fostering a nuclear power renaissance and a revitalized uranium mining industry across the American West. In The Price of Nuclear Power, environmental sociologist Stephanie Malin offers an on-the-ground portrait of several uranium communities caught between the harmful legacy of previous mining booms and the potential promise of new economic development. Using this context, she examines how shifting notions of environmental justice inspire divergent views about nuclear power's sustainability and equally divisive forms of social activism.  Drawing on extensive fieldwork conducted in rural isolated towns such as Monticello, Utah, and Nucla and Naturita, Colorado, as well as in upscale communities like Telluride, Colorado, and incorporating interviews with community leaders, environmental activists, radiation regulators, and mining executives, Malin uncovers a fundamental paradox of the nuclear renaissance: the communities most hurt by uranium's legacy—such as high rates of cancers, respiratory ailments, and reproductive disorders—were actually quick to support industry renewal. She shows that many impoverished communities support mining not only because of the employment opportunities, but also out of a personal identification with uranium, a sense of patriotism, and new notions of environmentalism. But other communities, such as Telluride, have become sites of resistance, skeptical of industry and government promises of safe mining, fearing that regulatory enforcement won't be strong enough. Indeed, Malin shows that the nuclear renaissance has exacerbated social divisions across the Colorado Plateau, threatening social cohesion. Malin further illustrates ways in which renewed uranium production is not a socially sustainable form of energy development for rural communities, as it is utterly dependent on unstable global markets. 
 The Price of Nuclear Power is an insightful portrait of the local impact of the nuclear renaissance and the social and environmental tensions inherent in the rebirth of uranium mining.
  
Praise for The Price of Nuclear Power: Uranium Communities and Environmental Justice (Nature, Society, and Culture)
"A vanguard contribution to examining the pitfalls of alt-energy zeal. Highly recommended."
— CHOICE
"This book is written to be accessible to broad audiences with an interest in the intersection of energy and society, as well as academic audiences interested in rural sociology, environmental sociology, or other related fields."
— Rural Sociology
"Malin provides a compassionate and intriguing ethnography of communities harmed by uranium mining and milling, of government duplicity in covering up hazards, and of the inspiring citizen science with which opponents have mapped cancer clusters and conducted health surveys. This book helps us understand how uranium production, along with other harmful energy production can beget structural violence, disease, and perpetuate inequalities."
— Phil Brown
"An enjoyable and accessible book, The Price of Nuclear Power provides great insight into the central problem facing natural resource communities across the globe, and is rich in ethnographic details that focus on environmental inequalities." 
— Brian Mayer
"Before the US approves new uranium mining, consider its toxic legacy" by Stephanie Malin
— The Conversation
"Trump's nuclear posture destabilizes, while disrespecting legacies of environmental injustice" by Stephanie A. Malin
— The Defense Post
"The Price of Nuclear Power powerfully documents how isolation and poverty drive residents to support uranium milling despite its health risks. The voices of all sides of the complex debate ring out from Malin's surveys and interviews."
— Technology and Culture
"A vanguard contribution to examining the pitfalls of alt-energy zeal. Highly recommended."
— CHOICE
"This book is written to be accessible to broad audiences with an interest in the intersection of energy and society, as well as academic audiences interested in rural sociology, environmental sociology, or other related fields."
— Rural Sociology
"Malin provides a compassionate and intriguing ethnography of communities harmed by uranium mining and milling, of government duplicity in covering up hazards, and of the inspiring citizen science with which opponents have mapped cancer clusters and conducted health surveys. This book helps us understand how uranium production, along with other harmful energy production can beget structural violence, disease, and perpetuate inequalities."
— Phil Brown
"An enjoyable and accessible book, The Price of Nuclear Power provides great insight into the central problem facing natural resource communities across the globe, and is rich in ethnographic details that focus on environmental inequalities." 
— Brian Mayer
"Before the US approves new uranium mining, consider its toxic legacy" by Stephanie Malin
— The Conversation
"Trump's nuclear posture destabilizes, while disrespecting legacies of environmental injustice" by Stephanie A. Malin
— The Defense Post
"The Price of Nuclear Power powerfully documents how isolation and poverty drive residents to support uranium milling despite its health risks. The voices of all sides of the complex debate ring out from Malin's surveys and interviews."
— Technology and Culture