Discounted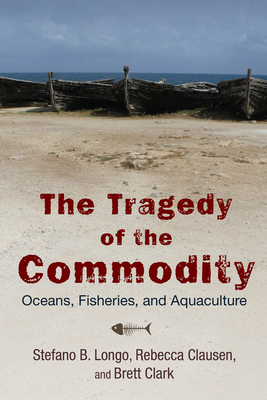 The Tragedy of the Commodity: Oceans, Fisheries, and Aquaculture (Nature, Society, and Culture)
Previous price:

$41.95
Current price:

$38.95
Publication Date:
June 25th, 2015
Publisher:
Rutgers University Press
Usually Ships in 1 to 5 Days
Description
Winner of the 2017 Paul Sweezy Marxist Sociology Book Award from the American Sociological Association
Although humans have long depended on oceans and aquatic ecosystems for sustenance and trade, only recently has human influence on these resources dramatically increased, transforming and undermining oceanic environments throughout the world. Marine ecosystems are in a crisis that is global in scope, rapid in pace, and colossal in scale. In The Tragedy of the Commodity, sociologists Stefano B. Longo, Rebecca Clausen, and Brett Clark explore the role human influence plays in this crisis, highlighting the social and economic forces that are at the heart of this looming ecological problem. In a critique of the classic theory "the tragedy of the commons" by ecologist Garrett Hardin, the authors move beyond simplistic explanations—such as unrestrained self-interest or population growth—to argue that it is the commodification of aquatic resources that leads to the depletion of fisheries and the development of environmentally suspect means of aquaculture. To illustrate this argument, the book features two fascinating case studies—the thousand-year history of the bluefin tuna fishery in the Mediterranean and the massive Pacific salmon fishery. Longo, Clausen, and Clark describe how new fishing technologies, transformations in ships and storage capacities, and the expansion of seafood markets combined to alter radically and permanently these crucial ecosystems. In doing so, the authors underscore how the particular organization of social production contributes to ecological degradation and an increase in the pressures placed upon the ocean. The authors highlight the historical, political, economic, and cultural forces that shape how we interact with the larger biophysical world. A path-breaking analysis of overfishing, The Tragedy of the Commodity yields insight into issues such as deforestation, biodiversity loss, pollution, and climate change. 
Praise for The Tragedy of the Commodity: Oceans, Fisheries, and Aquaculture (Nature, Society, and Culture)
"Impressive and compelling. The historical, political, and ecological perspectives? offered in The Tragedy of the Commodity are vital to understanding the link between the 'tragedy' inherent in many 'common property' situations."
— Bonnie McCay
"The Tragedy of the Commodity is a timely, readable, comprehensive, and critical guide to what is wrong with our relationship with the sea and its creatures and what can be done to recreate this necessary relationship. A must read for anyone interested in knowing what is wrong with our relationship with the sea and how to go about changing it for the better."
— Dean Bavington
"Consider[s] some of the most brutal aspects of the effects of capitalism in the process of turning every part of nature and every aspect of people's lives within it into something salable … The Tragedy of the Commodity also makes clear that to stop this destruction our society has to be organised in a completely different way and we have relatively little time to achieve it."
— International Socialism
"The Tragedy of the Commodity is a fantastic piece of literature that should be a staple book for graduate courses in environmental sociology."
— Human Ecology Review
"A crucially important contribution to the discussions on the future of our oceans and our relationship to them."
— Journal of Agrarian Change
"The Tragedy of the Commodity is an important step toward situating commons governance and ecological crises within a critique of the political economy of capitalism. "
— International Journal of Comparative Sociology