Discounted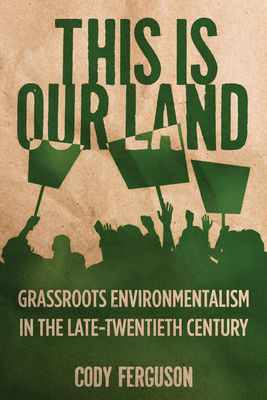 This Is Our Land: Grassroots Environmentalism in the Late Twentieth Century (Nature, Society, and Culture)
Previous price:

$38.95
Current price:

$35.95
Publication Date:
August 27th, 2015
Publisher:
Rutgers University Press
Usually Ships in 1 to 5 Days
Description
In the last three decades of the twentieth century, the environmental movement experienced a quiet revolution. In This is Our Land, Cody Ferguson documents this little-noted change as he describes the efforts of three representative grassroots groups—in Montana, Arizona, and Tennessee—revealing how quite ordinary citizens fought to solve environmental problems.  Here are stories of common people who, confronting environmental threats to the health and safety of their families and communities, bonded together to protect their interests. These stories include successes and failures as citizens learned how to participate in their democracy and redefined what participation meant. Equally important, Ferguson describes how several laws passed in the seventies—such as the National Environmental Policy Act—gave citizens the opportunity and the tools to fight for the environment. These laws gave people a say in the decisions that affected the world around them, including the air they breathed, the water they drank, the land on which they made their living, and the communities they called home. Moreover, Ferguson shows that through their experiences over the course of the 1970s, '80s, and '90s, these citizen activists broadened their understanding of "this is our land" to mean "this is our community, this is our country, this is our democracy, and this is our planet." As they did, they redefined political participation and expanded the ability of citizens to shape their world.  Challenging us to see activism in a new way, This is Our Land recovers the stories of often-unseen citizens who have been vitally important to the environmental movement. It will inspire readers to confront environmental threats and make our world a safer, more just, and more sustainable place to live.      
Praise for This Is Our Land: Grassroots Environmentalism in the Late Twentieth Century (Nature, Society, and Culture)
"An excellent resource for students learning about the development of environmental activism … Highly recommended."
— CHOICE
"The book is well organized … its size and scope make it a useful text, particularly for environmental studies and political science courses … Ferguson's writing enlivens the book, even while delving into technical issues."
— The Journal of American History
"Cody Ferguson's This is Our Land makes an important contribution to environmental history by reminding us of the significance of local struggles and movements."
— The American Historical Review
"Ferguson elegantly weaves together the histories of citizens' environmental organizations from across the country. Moving seamlessly between regions and policy levels, This is Our Land mirrors the experiences of the organizers in Ferguson's case studies as they sought to build collective power by elevating local concerns onto national and global stages."
— Register of the Kentucky Historical Society
"In This Is Our Land, historian Cody Ferguson examines three grassroots organizations to illustrate the diversity of the U.S. environmental movement during the 1970s and 1980s ... Ferugson is at his best when he explains the circumstances and environmental threats that gave rise to these groups."
— Montana the Magazine of Western History
"A terrific piece of work, Ferguson's book seamlessly blends narrative and analysis in a lively writing style, and shows the ways that we can collect, organize, and make sense of critical moments from our recent environmental past. A must-read for scholars of American environmentalism."
— Michael Egan
"Cody Ferguson effectively shows us how three grassroots environmental groups, from the Northern Plains to the Southwest and the Cumberland Mountains, are emblematic of the hundreds of groups seeking democratic change, if not radical environmental transformation."
— Robert Gottlieb
"This Is Our Land is a worthy contribution to the literature on environmental activism. The writing style and case studies would make it an exceptionally strong resource for undergraduate courses on environmental activism, grassroots organizing, or local environmental politics"
— Robert Gioielli