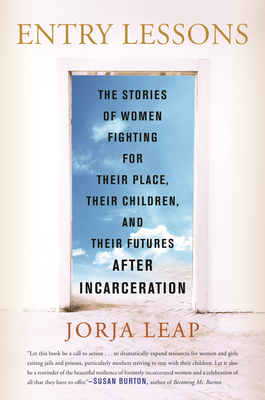 Entry Lessons: The Stories of Women Fighting for Their Place, Their Children, and Their Futures After Incarceration
Publication Date:
April 26th, 2022
The MIT Press Bookstore
2 on hand, as of Dec 7 10:28am
(POLSI)
On Our Shelves Now
Description
"A call to action … A reminder of the beautiful resilience of formerly incarcerated women and a celebration of all that they have to offer." —Susan Burton, author of Becoming Ms. Burton and founder of A New Way of Life
Urgent and empathetic, Entry Lessons is one of the first examinations of the lasting impact of incarceration on women and their families
Recent reports show that women make up the fastest-growing population within the United States' criminal justice system. And yet, despite necessary conversations about incarceration and prison abolition, their stories of abuse, neglect, poverty, and family separation often go untold. Now, through immersive storytelling and expert analysis of women's lives after prison, anthropologist Jorja Leap explores their journeys into, through, and beyond the jail cell.
In these pages, you'll meet women like:
–Ivy and Janet, accused of murder, whose intertwined stories of childhood harm, domestic abuse, and gang violence unfold throughout the book
–Denise, who confronts the lasting impact of her childhood sexual trauma as she struggles with relationships and the realities of homelessness
–Rosa, a survivor of sex trafficking whose relationship with her mother—her trafficker—is fraught with conflicting feelings she works to resolve
–Carmen, whose search for love ultimately endangers not just her life but also the lives of her children
–Clara, who survived placement in the child welfare system only to experience having her own children sent to foster care
–Angela and Ronnie, two women navigating the complexities of sexuality and queerness in and out of prison
Leap chisels away at superficial narratives to unearth pasts rife with struggle and oppression. She reveals the sharp edges of reentry and the wounds suffered by these women and their families, exposing a cycle of trauma that powers the revolving door of reentry and reincarceration. And, still, Entry Lessons is a book of hope just as much as it is of pain. Leap calls for systemic change through the development of meaningful reentry programs and policies that will have a lasting, life-changing impact on women as they rebuild their lives and especially as they are able to reclaim their children.
Praise for Entry Lessons: The Stories of Women Fighting for Their Place, Their Children, and Their Futures After Incarceration
"Devastating revelations that humanize statistics while calling for reform."
—Kirkus Reviews
"In her book, Jorja Leap dives into the trauma that too many poor Black and Brown women face on the long and difficult road that leads to cycles of incarceration. The women she interviewed have given her and her readers the generous gift of their stories, so that those who have not lived similar experiences can begin to understand the criminalization of trauma, the harm done by the criminal injustice system, and the utter failure of society to provide support to women leaving incarceration. Let this book be a call to action to address that failure and to dramatically expand resources for women and girls exiting jails and prisons, particularly mothers striving to stay with their children. Let it also be a reminder of the beautiful resilience of formerly incarcerated women and a celebration of all that they have to offer."
—Susan Burton, author of Becoming Ms. Burton: From Prison to Recovery to Leading the Fight for Incarcerated Women
"Jorja Leap illuminates the pain endured by Latina, Black, and all women who have been incarcerated and the clear solutions to address their suffering. The many stories offered in the book exemplify the harm done when society invests in the wrong systems. These failures hurt not just those on whom they've been inflicted but all of us. Leap's book depicts what must be done to ameliorate the trauma inflicted and instills a sense of urgency among readers. I have been a longtime supporter of A New Way of Life's Susan Burton, having seen her immense impact, and I am grateful to Leap for capturing her meaningful fight for justice and dedicating the book to my sister Dr. Beatriz Solis, who lives on in the work of those like Susan Burton. As the book's title duly notes, these women are fighting for their place, their children, and their futures following incarceration. It's time we fight for them."
—Hilda L. Solis, Los Angeles County supervisor
"Compelling and gloriously written. Entry Lessons advances the criminal justice conversation from an entrenched 'pathology model' to a 'healing in community' one. Jorja Leap doesn't just point things out; she points the way. Leap makes the case for a gender-sensitive, trauma-informed, and person-centered focus on healing and relational wholeness. In these pages, we are informed, inspired, and filled with zeal to stop punishing the wounded but, rather, to seek to heal them."
—Gregory J. Boyle, founder, Homeboy Industries
"Every day in the United States, women, especially women of color, are locked up because they are poor. Family separation and generational cycles of trauma are the result. Jorja Leap tells the stories of these women and offers the promise of a new way forward. A must-read for all those who care about family separation and the future of this country."
—Zach Norris, author of Defund Fear