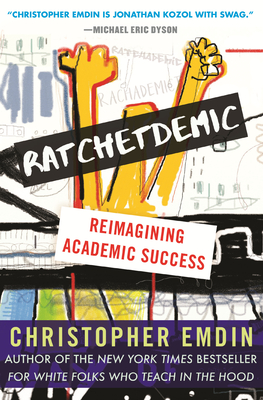 Ratchetdemic: Reimagining Academic Success
Publication Date:
August 9th, 2022
The MIT Press Bookstore
1 on hand, as of Dec 7 10:28am
(SS:ED)
On Our Shelves Now
Description
"Ratchetdemic will inspire a new generation to be their authentic selves both within and beyond the classroom."—GZA of the Wu-Tang Clan
A revolutionary new educational model that encourages educators to provide spaces for students to display their academic brilliance without sacrificing their identities
From the nationally renowned educator and New York Times best-selling author of For White Folks Who Teach in the Hood…and the Rest of Y'all Too
Dr. Christopher Emdin advocates for a new kind of student identity—one that bridges the seemingly disparate worlds of the ivory tower and the urban classroom.
Because modern schooling often centers whiteness, Emdin argues, it dismisses ratchet identity (the embodying of "negative" characteristics associated with lowbrow culture, often thought to be possessed by people of a particular ethnic, racial, or socioeconomic status) as anti-intellectual and punishes young people for straying from these alleged "academic norms," leaving young people in classrooms frustrated and uninspired. These deviations, Emdin explains, include so-called "disruptive behavior" and a celebration of hip-hop music and culture.
Emdin argues that being "ratchetdemic," or both ratchet and academic (like having rap battles about science, for example), can empower students to embrace themselves, their backgrounds, and their education as parts of a whole, not disparate identities. This means celebrating protest, disrupting the status quo, and reclaiming the genius of youth in the classroom.
Praise for Ratchetdemic: Reimagining Academic Success
"Offers an illuminated guide to decentering whiteness in the classroom in order to allow students of color to thrive . . . . This impassioned and richly detailed call for change will strike a chord with teachers in historically marginalized communities."
—Publishers Weekly
"Christopher Emdin reminds us of the importance of nurturing and celebrating the identities of all young people. Ratchetdemic will inspire a new generation to be their authentic selves both within and beyond the classroom. It is the written form of what our music aims to do."
—GZA of the Wu-Tang Clan
"Ratchetdemic is a timely and essential resource for teachers, parents, and whoever else needs this compelling and accessible and above all absolutely refreshing take on pedagogy. Here's to more and more classrooms being filled with learning, healing, and joy."
—Jacqueline Woodson, MacArthur Fellow and National Book Award winner for Brown Girl Dreaming
"Chris Emdin has done it again. Ratchetdemic, a modern answer to Carter G. Woodson's 1933 Mis-Education of the Negro, pushes the boundaries of what school should be. While the current schooling enterprise propels us into the role of Woodson's psychically deadened, self-loathing 'Negro' who seeks to exterminate Black students' authentic selves in the name of 'education,' Emdin instead asks that we free ourselves from the mechanistic, decontextualized lessons we've been trained to deliver and transform our education to embrace the real identities and experiences of Black (and, indeed, all) youth. While this book is politically and pedagogically revolutionary, it is really about igniting joy—in our teaching and in our students' souls. Welcome to 'Ratchetdemia'!"
—Lisa Delpit, author of "Multiplication Is for White People" and Other People's Children
"Ratchetdemic reminds us of the skills and power that our students and teachers walk into the classroom with, how we need to honor those skills and that power, and the responsibility we have to our community. This is a must-read, rooted in demands for justice that our classrooms deserve."
—DeRay Mckesson, activist and host of Pod Save the People
"What Christopher Emdin offers in Ratchetdemic is not only a call for us to uplift the rigors of bringing our full selves to the epistemological foundations associated with the pursuit of educational justice; it is also an invitation to explore the ancient truth that being a little 'ratchet' can be healing for all of us."
—Monique W. Morris, author of Pushout: The Criminalization of Black Girls in Schools