Discounted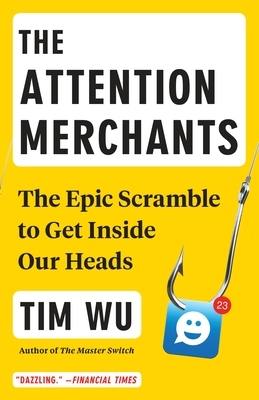 The Attention Merchants: The Epic Scramble to Get Inside Our Heads
Previous price:

$17.95
Current price:

$17.00
Publication Date:
September 19th, 2017
The MIT Press Bookstore
2 on hand, as of Dec 8 10:45am
(BUSIN)
On Our Shelves Now
Description
From the author of the award-winning The Master Switch, who coined the term "net neutrality"—a revelatory, ambitious and urgent account of how the capture and re-sale of human attention became the defining industry of our time. 

"Dazzling." —Financial Times

Ours is often called an information economy, but at a moment when access to information is virtually unlimited, our attention has become the ultimate commodity. In nearly every moment of our waking lives, we face a barrage of efforts to harvest our attention. This condition is not simply the byproduct of recent technological innovations but the result of more than a century's growth and expansion in the industries that feed on human attention.
Wu's narrative begins in the nineteenth century, when Benjamin Day discovered he could get rich selling newspapers for a penny. Since then, every new medium—from radio to television to Internet companies such as Google and Facebook—has attained commercial viability and immense riches by turning itself into an advertising platform. Since the early days, the basic business model of "attention merchants" has never changed: free diversion in exchange for a moment of your time, sold in turn to the highest-bidding advertiser.
Full of lively, unexpected storytelling and piercing insight, The Attention Merchants lays bare the true nature of a ubiquitous reality we can no longer afford to accept at face value.
Praise for The Attention Merchants: The Epic Scramble to Get Inside Our Heads
One of the Best Books of the Year
The San Francisco Chronicle * The Philadelphia Inquirer * Vox * The Globe and Mail (Toronto)
"Vigorous, entertaining.... Wu describes how the rise of electronic media established human attention as perhaps the world's most valuable commodity." —The Boston Globe
"The Attention Merchants is a book of our time, touching on an emerging strain of anxiety about the information age.... A bracing intellectual tour de force." —The San Francisco Chronicle

"Comprehensive and conscientious, readers are bound to stumble on ideas and episodes of media history that they knew little about. [Wu] writes with elegance and clarity, giving readers the pleasing sensation of walking into a stupendously well-organized closet." —The New York Times
 
"A startling and sweeping examination of the increasingly ubiquitous commercial effort to capture and commodify our attention.... We've become the consumers, the producers, and the content. We are selling ourselves to ourselves." —The New Republic
 
"The book is studded with sharp illustrations of those who have tried to stop the encroachment of advertising on our lives, and usually failed.... Wu dramatizes this push and pull to great effect." —The New York Times Book Review
"An engaging history of the attention economy.... [Wu] wants to show us how our current conditions arose." —The Washington Post
"Dazzling.... [Wu] could hardly have chosen a better time to publish a history of attention-grabbing.... He traces a sustained march of marketers further into our lives." —The Financial Times
 
" [An] erudite, energizing, outraging, funny and thorough history of one of humanity's core undertakings—getting other people to care about stuff that matters to you." —Boing Boing
"Engaging and informative.... [Wu's] account ... is a must-read." —The Washington Times