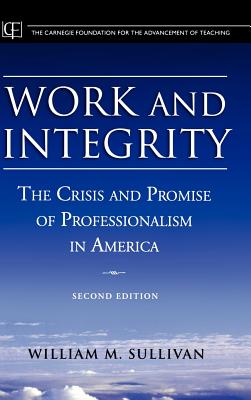 Work and Integrity: The Crisis and Promise of Professionalism in America (Jossey-Bass/Carnegie Foundation for the Advancement of Teach #4)
Publication Date:
November 4th, 2004
Publisher:
John Wiley & Sons
Usually Ships in 1 to 5 Days
Description
Work and Integrity is a timely resource that examines the crisis as well as the promise of professionalism in contemporary society. This vital book argues for the importance of a new civic professionalism that reflects the ideals of democracy and public service in our ever more complex economic environment. A publication of The Carnegie Foundation for the Advancement of Teaching, Work and Integrity explores the most current thinking on the various (and often conflicting) ways in which the concept of professional work is understood. Using examples from the United States and Europe, the author describes how the professions evolved from a limited kind of genteel occupation into one of the most widely emulated and sought-after models of work. The book also explores the rise of complex institutions of industrial and postindustrial society, especially the university and the bureaucratic structures of business, government, health care, and education.