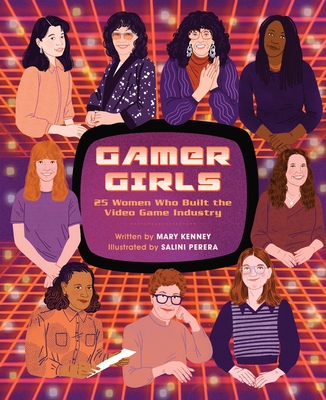 Gamer Girls: 25 Women Who Built the Video Game Industry
Publication Date:
July 19th, 2022
Publisher:
Running Press Kids
The MIT Press Bookstore
2 on hand, as of Dec 7 10:28am
(JR:YA)
On Our Shelves Now
Description
Discover the women behind the video games we love—the iconic games they created, the genres they invented, the studios and companies they built—and how they changed the industry forever. 
 
Women have always made video games, from the 1960s and the first-of-its-kind, projector-based Sumerian Game to the blockbuster Uncharted games that defined the early 2000s. Women have been behind the writing, design, scores, and engines that power one of the most influential industries out there. In Gamer Girls, now you can explore the stories of 25 of those women. Bursting with bold artwork, easy-to-read profiles, and real-life stories of the women working on games like Centipede, Final Fantasy, Halo, and more, this dynamic illustrated book shows what a huge role women have played—and will continue to play—in the creation of video games.
With additional sidebars about other influential women in the industry, as well as a glossary and additional resources page, Gamer Girls offers a look into the work and lives of influential pixel queens such as: 
Roberta Williams (one of the creators of the adventure genre)
Mabel Addis Mergardt (the first person to write a video game)
Muriel Tramis (the French "knight" of video games)
Keiko Erikawa (creator of the otome genre)
Yoko Shimomura (composer for Street Fighter, Final Fantasy, and Kingdom Hearts)
Rebecca Heineman (first national video game tournament champion)
Danielle Bunten Berry (creator of M.U.L.E. and early advocate for multiplayer games)
and more!
Whether you're a gamer girl who plays video games, a gamer girl who makes video games, or a parent raising a gamer girl, this entertaining, inspiring book will have you itching to pick up a controller or create your own video games!
Praise for Gamer Girls: 25 Women Who Built the Video Game Industry
"A solid reference work that shows aspiring female game developers the legacy they'd be joining."—Kirkus
"Gr 7 Up–Video games wouldn't be what they are today without the contribution of women from all around the world. Women have been integral in shaping the field, from some of the first text-based games in the 1970s to the high-tech games players know and love today. This engaging book features 25 women, including women of color, trans women, teenagers, and women who changed careers later in life. Throughout each chapter, readers get tidbits on other influential women in the field, aptly labeled "Side Quests." Kenney, a video game writer, shares her insider knowledge and research to help readers understand all the terms and technical talk that comes with discussing game development. The layout is easy to follow, and the illustrations are bright and appealing. This book celebrates inclusion and proves that diversity in cultures and opinions is needed to create great games. Readers do not need to be well-versed in gaming lingo to understand and appreciate this book.
VERDICT Witty, engaging, and informative, this book will inspire all types of readers to do what they love, whether in the gaming industry or not."—SLJ
"We hope that this book will enlighten, encourage, and inspire the next generation of gamer girls, and girls who make (or aspire to make!) games."—Women In Games